Cannabis in U.S. Agriculture ( . )

As cannabis in the form of industrial hemp receives crop status in the 2018 farm bill and a growing number of states have legalized medical marijuana and industrial hemp production, who will meet the need?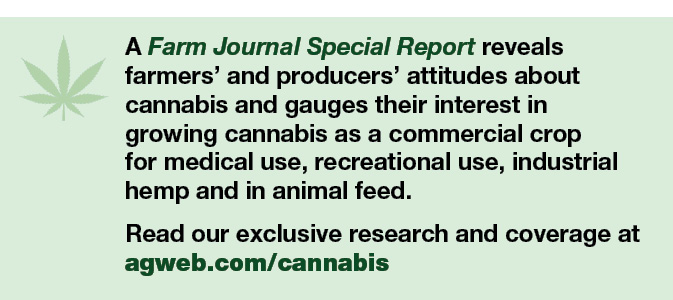 Could Cannabis Improve Pork Flavor? Weed-Fed Pigs Creating a Stir
Pigs at Moto Perpetuo Farm aren't getting high on cannabis, but some say their pork is better because of it. This integrated legal marijuana farming operation in Forest Grove, Ore., is not only raising cannabis-fed pigs, they're also raising a few eyebrows.
PORK Poll: Could Marijuana in the Pig Diet Make a Difference?

Regardless of where you stand on the issue of medical marijuana, 33 states have now legalized medical marijuana use and the number of cannabis producers looking for ways to utilize plant byproducts continues to increase. THC in the diet is of interest to some, scientifically, because the appetite stimulation by marijuana could increase feed intake in pigs.

Perdue Answers Buzz on Hemp in Animal Feed
From fiber and oil to clothing and makeup, hemp products are hot. And now some are exploring whether hemp could be a useful ingredient in animal feed. So what's the Secretary of Agriculture's take? Read it here. 

Livestock Producers: Do You Drug Test?
The 2019 Farm Journal Cannabis in U.S. Agriculture Study asked livestock producers with employees about their drug testing policies. Here's what we learned. 
Top Stories

Facts and Fiction about Hemp in Animal Feed
Livestock producers will play a crucial role in the success or failure of hemp, as the crop holds many potential benefits as a feedstuff. Some states have already set in motion programs to analyze hemp's safety and practicality as a livestock feed. 

Livestock Owners Weigh in on Ag's Role in the Hemp Marketplace
Hemp has been an agricultural product that has graced many farmers' fields, including famous farmers George Washington and Thomas Jefferson. Most recently, the 2018 farm bill has classified hemp that contains less than 0.3% of THC as a commodity crop. So what's your role in hemp growth today? Here's what livestock owners said:
Check out more exclusive data from the 2019 Farm Journal Cannabis in U.S. Agriculture Study and other resources here: 
> What's the Farmer's Role in Growing Hemp? 
From Farm Journal: Hemp: Hopes and Headaches Ahead
U.S. farmers can officially play the hemp game, so says the 2018 farm bill, and as of January 2019, 41 states have given hemp a green flag. Here's what you need to know before you grow.
From AgDay: Taking the THC out of Hemp Plants
From Bovine Veterinarian: Cannabis in Veterinary Medicine
Check out the latest stories and updates at AgWeb.com/cannabis. 
Resources
• USDA Plant Profile for Marijuana
Discuss
Would you like to discuss cannabis in U.S. agriculture with other farmers in a closed, private setting? Request access to join our members-only discussion forum.