( National Pork Board and the Pork Checkoff )
Whether he's relaxing in a pool in the Bahamas or speaking to legislators in Washington, D.C., Chris Hoffman is all about creating "aha" moments for others, especially when it comes to farming. 
"I love when people have a breakthrough moment. That's what I enjoy about what we do as advocates of agriculture — getting people to say, 'Hmm, I never thought of that.'" says Hoffman, who was honored as America's Pig Farmer of the Year by the Pork Checkoff. 
First-generation pig farmer
He can relate to those breakthrough moments because becoming a pig farmer was not in his plans. He was set on a career in law enforcement. But because of his age, he had to wait before he could attend police academy.
With $300 in his pocket, he went to work for a grocery store. Then he was invited to work for a feed company in a hog barn. Before he knew it, he was managing an 850-sow farrow-to-finish operation. 
And then he had an aha moment.
"In pig farming, I quickly learned we'd always have ups and downs. We went through pseudorabies in the early 90s, and when we came out of that, we were really rolling along," he says. "One day, I was looking at the dollars and cents of what we were doing on the farm and realized we were making it happen."
Hoffman decided it was time to step out and make his living in pig farming. 
"I had given up my dream of law enforcement because I really enjoyed pig farming, from breeding and looking at numbers to watching pigs being born and setting goals for number born alive," Hoffman says.
That's how Lazy Hog Farm of McAlisterville, Pa., got its start in 1994. Since then it's grown from a small sow farm selling pigs under contract to becoming an independent, 1,400-sow farrow-to-wean operation today.
"As a first-generation farmer, I couldn't fall back on past generations," Hoffman says. "I learned the importance of partnerships and sharing risks in order to grow our farm."
Being a first-generation pig farmer makes Hoffman unique, says Louis Sallie, retired chief administrative officer for the Pennsylvania Farm Bureau. 
"I think his passion comes from being a first-gen farmer," Sallie says. "That's really rare in our country. Most farmers grow up with a family who farmed – we do things the way grandpa and dad did them. That's not Chris' story. He had to do things on his own and figure out how to build his business from the ground up."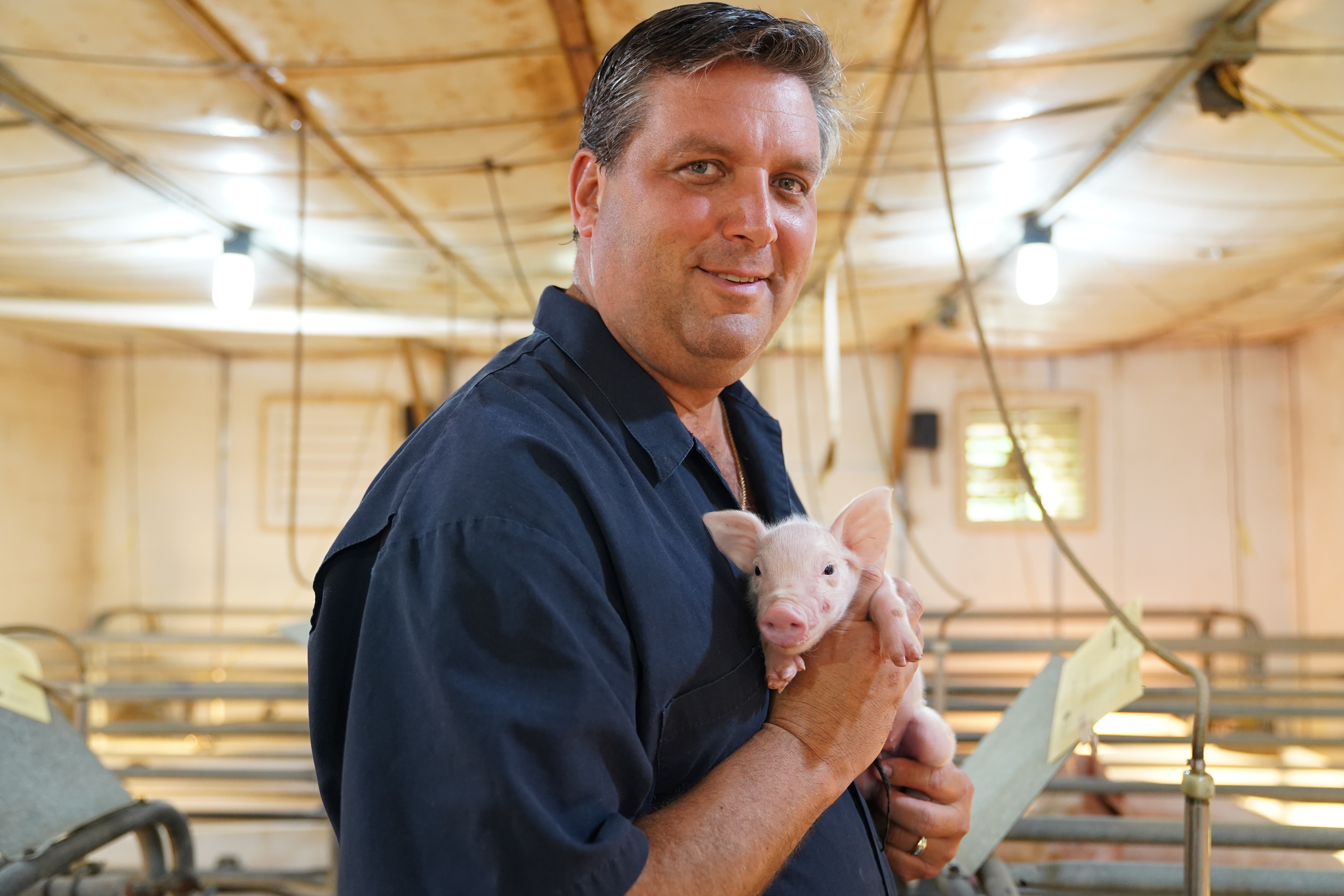 Intentional growth
Growing his pig farming operation has been a slow process, Hoffman says. And few people believed he could make it on his own.
"I think one of my greatest accomplishments, 25 years after starting our family farm, is being able to say we are still here today producing pigs and making a profit," he says. 
By setting goals and working with his employees to bring those goals to life, Hoffman says getting people to buy in and personally feel responsible for their job has been a huge key to success. 
"Not every day is great, but every day is different," he laughs. "I want my team to enjoy what they do – raising pigs – and I don't ask them to do anything I wouldn't be willing to do."
Clyde Brubaker, Lazy Hog Farm's farm manager, says the team stands together on farm decisions. He believes that's one reason why it's such a great place to work. 
"He's not the boss who's constantly breathing down your neck, but he's there. And he's willing to give direction whenever we need it," Brubaker says.
Although farm growth didn't happen overnight, with a strong team behind him, his farm now sells 34,000 pigs and produces more than 200,000 broilers annually. 
"Early on, we didn't have the dollars to try a lot of new things because we couldn't afford it if something didn't work," he says. "When our children come back to farm years from now, they're going to have all sorts of opportunities to think outside the box and try new things."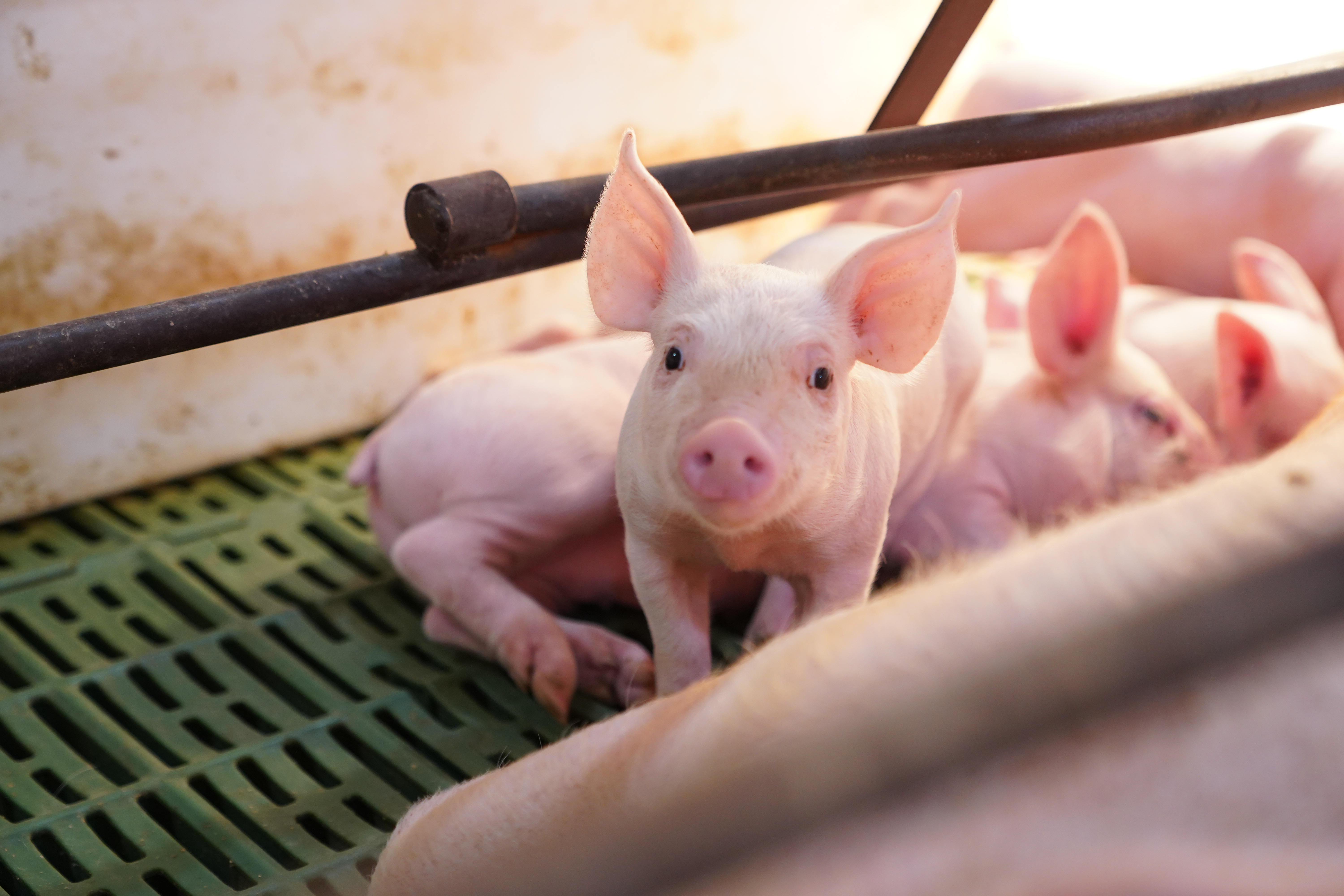 Relentless for agriculture
When Hoffman was nominated for America's Pig Farmer of the Year, he never dreamt it would be possible. 
"Sometimes I look at my life and think 'how did this happen?'" Hoffman asks. "I sit on the board of trustees at Penn State. Why would I be there? I never went to college. And now, America's Pig Farmer of the Year?"
Sallie says it's no surprise to those who know Hoffman. In one word, he's relentless. 
"He believes in agriculture and tries to do all he can to help others understand. He believes strongly that the story of farming should be told by a farmer who best understands it," Sallie says.
His tireless pursuit of spreading agriculture's story has helped him excel in many roles, including vice president of Pennsylvania Farm Bureau where he focuses on education and promotion.
"I view it as my job – the job of all pig farmers – to go out and talk about what we do and how we raise our animals and to show how much we care," Hoffman says. "It's concerning to me how many young people think their food just comes from Wal-Mart. They are very removed from the farming process."
When his year as America's Pig Farmer is over, he hopes he can say he moved the needle a bit – whether it's improving consumer confidence and understanding, talking with legislators or energizing other pig farmers to tell their story.
And along the way, if he can inspire more first-gen farmers to open their mind to possibilities in agriculture, you can bet he won't miss that opportunity.
 
More from Farm Journal's PORK:
Chris Hoffman Voted America's Pig Farmer of the Year
Final Four Announced for America's Pig Farmer of the Year