( National Pork Board and the Pork Checkoff )
On Sunday night, 60 Minutes aired an episode questioning the use of antibiotics in the livestock industry and singled out the pork industry, pointing to an isolated Salmonella outbreak from 2015 tied to roaster pigs in Washington state. 
Journalist Lesley Stahl interviewed Scott Lindquist, a Washington state epidemiologist; Lance Price, a microbiologist at George Washington University; and Liz Wagstrom, National Pork Producers Council (NPPC) chief veterinarian.
Despite an 80-minute interview with Wagstrom, 60 minutes aired less than two minutes of Wagstrom's comments, NPPC said, and the report failed to include the critical information she shared about modern pork production.
"The U.S. pork industry has an excellent food safety record, and NPPC is proud to represent hog farmers who provide the safest, healthiest and most affordable pork in the world," NPPC said on its blog, Hogs on the Hill.  
U.S. pork producers must adhere to rigorous government regulations and stringent production standards defined by the industry's Pork Quality Assurance (PQA) Plus program.  
"Food safety truly is a team effort – from the farm to processing facilities to consumers who must be informed about food handling and cooking temperatures," NPPC said on the blog. "Close scrutiny of U.S. government data shows that American consumers can take pride not only in the quality, but indisputably in the safety of U.S. pork." 
Major decline in antibiotic use in livestock 
Since 2015, there has been a 41% decline in antibiotic sales used for livestock, according to the FDA. However, during the interview, the 60 Minutes report did not discuss pork producers' adoption of regulations three years ago that required veterinary oversight and limited the use of antibiotics important for human medicine. 
"These regulations and the industry's PQA Plus certification program require farmers to form client-patient relationships with licensed veterinarians. Only these veterinarians can prescribe antibiotics on farm," NPPC's statement says. "Sales data reflects declining use of antibiotics in livestock." 
Broad scientific knowledge tells us that antibiotics in people is the primary source of antibiotic resistance, NPPC says. Debate continues about whether drug-resistant microbes in animals pose a significant public health burden, according to the National Institutes of Health website. Still, the medical and animal health communities are working to reduce the need to use antibiotics to ensure they're available and effective for people and animals.
Farmers put pigs first
Stahl claimed she was not able to get inside of a modern pig farm and said Wagstrom raised a surprising concern when she discussed farm biosecurity. 
"The health of pigs is a top priority, so farmers follow strict biosecurity protocols, including being very careful about who comes onto a farm or enters a pig barn," NPPC said. 
With the elevated threat of African swine fever (ASF), an animal disease affecting only pigs and with no human health or food safety risks, biosecurity is more important than ever. Currently there are no reported cases of ASF in the U.S., thanks to cooperative efforts by USDA and the U.S. Customs and Border Protection.  
"Farmers take biosecurity very seriously; the last thing they want is for someone to carry a disease into a barn and cause animal suffering," NPPC responded in its statement. 
USDA conducts surveys on farms periodically and makes these findings available. NPPC reports it has actively advocated for USDA funding required to gather more farm data that supports the industry's commitment to continuous improvement. 
New Swine Inspection System under fire
At the end of the segment, Price criticized USDA's New Swine Inspection System (NSIS), a voluntary program supported by many years of research. Price argued it's straight-up deregulation.
NPPC said NSIS is designed to increase efficiency and effectiveness of the federal inspection process and to provide more flexibility for adopting new food-safety technologies. 
"It had been 50 years since pork inspection had been modernized, and these changes were long overdue," NPPC said in its statement. "It's important to know that the USDA maintains absolute authority and accountability for inspection. Like any industry, the pork industry is focused on continually improving and incorporating technologies that improve the way we raise animals and produce safe pork products." 
Pork producers respond
Since the episode aired, pig farmers took to social media to discuss opening their doors to people who want to see how their pigs are raised. 
"If you have a question, go to the source," Gracee Workman, an Ohio pig farmer, said on Facebook. "Farmers do everything they can to ensure that animals are comfortable and healthy. I have worked with hundreds of farmers over the years and I have never met one that does not care. They work hard to care for the food that is produced for you and your family to eat. 60 minutes shared a segment tonight regarding pig farms. The view they portrayed is not what I have personally seen or the work I have done." 
It was frustrating to watch a news story like that and know that it completely misrepresents our industry, added Brad Greenway, a pig farmer from South Dakota.
To learn more, visit https://www.porkcares.org/our-practices/.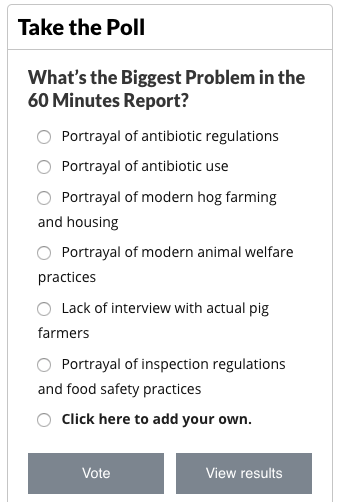 Read more from Farm Journal's PORK:
FDA Antibiotic Report is No Surprise to Pork Industry
U.S. Pork Industry Ends 2018 with Major Antibiotic Progress
Antimicrobial Resistance: Hospitals, Farms Share More Than You Think