Budgets are never perfect — but you need to complete one. ( AgWeb )
Your 2020 budget will be littered with mistakes. You will overestimate revenue and maybe underestimate fuel costs. Your expectations for yields might be off by 25%, and you might end up making a last-minute switch in crops. 
Budgets are never perfect — but you need to complete one.
"Budgeting is one of the most important management tools we have," says Brent Gloy, an ag economist with Agricultural Economic Insights. "Putting together a good, detailed budget helps us make good decisions throughout the year."
For 2020, early projections show a likely repeat of 2019's crop prices and production costs. Here are the projections for the heartland from Ag Economic Insights: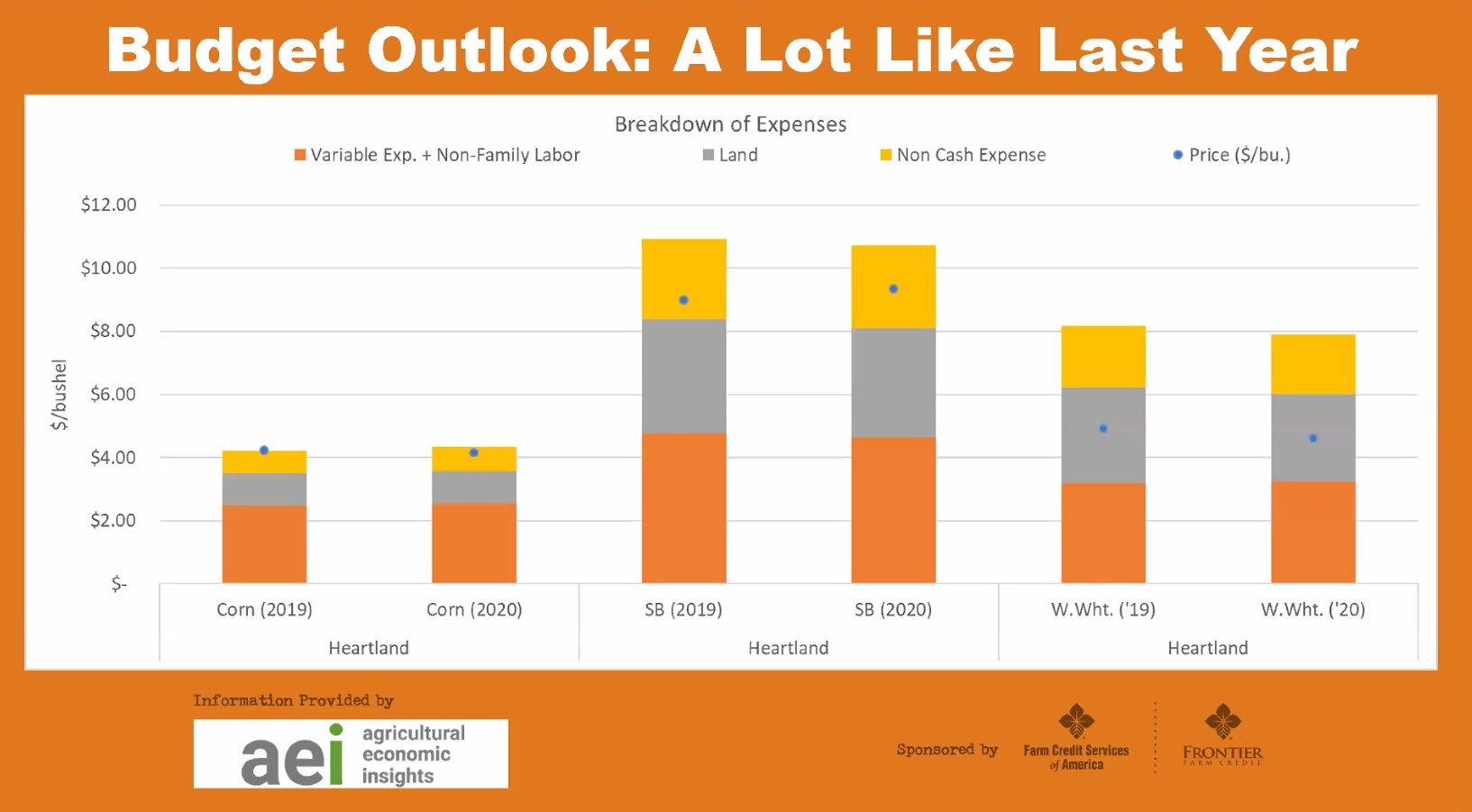 With those numbers (or your own projections in mind), here are the steps to take as you develop your 2020 budget.
1. Review 2019.
Ask a few key questions, Gloy says, such as: What are your actual costs of production? What are the costs that are the hardest to pinpoint? Review both your projections going into 2019 and your actual costs.  
2. Identify changes from 2019.
What will be different about your operation next year? Will you farm more land or less? Have you made any capital investments or change production practices?
Many cost factors will be similar to last year, says David Widmar, an economist with Agricultural Economic Insights. But, be sure to factor in a big price improvement: fertilizer.
"We've seen a big improvement in fertilizer prices from last spring," he says. "What does this mean at the farm level? A big improvement in corn budgets. Can you take advantage of these prices today?" 
3. Make realistic assumptions for 2020.
Your annual budget is simply a forecast of your expected income and expenses. The key is to make realistic — not optimistic or pessimistic — assumptions, Gloy says.
"If you budget too conservatively, you end up with some unrealistic sales goals," he adds.
4. Analyze your fixed costs. 
Farmers tend to struggle the most in managing fixed costs versus variable costs, says Aaron Raymond, ag lender with Farm Credit Services of America. 
"They spend most of their time focusing on variable costs like seed, fertilizer, etc." he says. "But their level of debt, machinery and equipment and family living are the most under their control."
The two cost-of-production elements where farmers have the biggest opportunity for savings are land and equipment, adds Chris Barron, Iowa farmer and national financial consultant for Ag View Solutions.
"For those who rent a large portion of their acres, lowering rental rates should be the first item of business moving forward," Barron says. "Most land rents range from $50 to $150 per acre higher than is realistically feasible to be profitable."
As a percentage of cost, Barron says, machinery typically ranges between 15% and 25% of the total cost of production. He encourages farmers to consider efficiency:
Are you running equipment at maximum capacity? 
What factors are limiting productivity?
"Typically, it's not the machinery but the lack of trained personnel that creates a bottleneck," he says. "Figure out how to use the same iron over more acres."
5. Use your budget.
Once you put in the time to create a budget — use it. For instance, Gloy says, a budget can help you with your: 
cash flow planning.
marketing plan.
enterprise analysis.
rental decisions.
cost control.
risk management.
6. Update your budget throughout the year. 
Raymond estimates less than 10% of his farmer-customers update their budgets throughout the year, even though a budget is a requirement for their loan process.
"I tend to notice customers who do good budgeting tend to be more decisive," he says. "A budget is a living, breathing document – update, update, update."
As the season progresses, your costs shift from expected to actual, and you can assess why your costs or revenue is below or above your projections.
Be sure to account for any government payments in your budget, Widmar adds. That can include Agricultural Risk Coverage (ARC) and Price Loss Coverage (PLC) payments or Market Facilitation Program (MFP) payments.
"If we get another round of MFP, update your projections," he says. "That is a really important part of budget process."
Don't be overwhelmed by the budgeting process, Widmar coaches.
"The highest ROI activities you can do for your farm are crunching your numbers, scouting your fields and checking your herd," he says. "Get started today."
Widmar, Gloy and Raymond presented a "Preparing for 2020" webinar sponsored by Farm Credit Services of America and Frontier Farm Credit. 
Read More
Financial Tips for the Times

Budget Basics: Forecast realistic costs and expenses to increase financial performance 
Get Real On Your Production Costs

A Living Document: Revise, update and monitor your budget.