Duane Stateler says drainage-control structures with gates on field tile is a cost-effective practice he believes other farmers could adopt in their operations. ( Stateler Family Farms )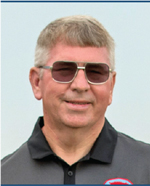 Three busloads of farmers pulled onto Duane and Anthony Stateler's farm one morning in August and spent the day touring the northwest Ohio family operation. Visitors are a common occurrence on the farm and welcome, says family patriarch, Duane.
"We've had more than 3,500 visitors over the last couple of years, including the former mayor of Toledo and her staff," he notes.
Visitors tend to have two goals in common: They want to see the six or so conservation measures the Statelers have implemented or are evaluating across 243 acres of their 900-acre, sixth-generation farm, which includes a 7,200-head wean-to-finish swine operation. Plus, visitors are also interested in how the measures keep nitrogen (N), phosphorus (P)and other valuable nutrients on the farm and out of Ohio waterways that flow into the beleaguered Lake Erie.
"With the water problem we had in Toledo all but pointing the finger at animal agriculture, we felt like we needed to know if we were doing the right things," Duane says.
Toxins from a Lake Erie algal bloom were found in Toledo's drinking water systems in 2014, causing city officials to implement a three-day, city-wide ban on drinking and even touching their tap water. As a result, many Ohio legislators and researchers blamed agriculture for the problem.
Concern over the future of their farm and Ohio agriculture in general prompted Stateler and his son, Anthony, to volunteer for a research endeavor called the Blanchard River Demonstration Farms Network. Two other area farmers also participate in the research. (You can learn more about the Stateler family via their website Stateler Family Farms: New Website!)
Now, three years into the five-year research program, Duane says the use of drainage control structures with water gates on field tile is the No. 1 practice they've adopted that he believes other farmers across the country could most benefit from.
Farmers use water-control structures attached to traditional tile much like a temporary dam in farmers' fields. When gated, using stacked baffles, the structures allow them to release water when they don't want it in the field, like during planting or harvest, or to hold it back for a crop's use when rainfall is scarce.
Aaron Heilers, project manager for the demonstration farms, says by installing water control structures farmers can reduce discharge on average about 40% and "therefore reduce N and P loading by about the same amount." 
Heilers adds that research shows the amount of phosphorus that leaves the field is higher in subsurface tile water than in surface runoff. "This is because the tile can run 365 days a year, whereas surface runoff only happens during large rain events," he says.
Agronomists with Crop-Tech Inc., based near Heyworth, Ill., have measured runoff reductions using water-control practices in both a gated and non-gated field. "From our 2016 data in the gated field with tile spaced 120' wide we saw close to a 40% reduction in the amount of N lost through a single large rain event," Isaac Ferrie says.
When heavy rains fall quickly on a field, Crop-Tech test results have shown that approximately 70% of the nutrient loss happened through the tile within the first 48 hours. "Even though the gates allow water to flow over top in times of high flow to avoid saturating active root zones, the gates still significantly reduced the amount of water that left the field," Ferrie says.
A significant challenge for farmers interested in the technology is determining whether a tile system can or should be gated, and where to install the gates. "For every 1' to 2' change in elevation you'll need a water control structure," Ferrie says. "If you have a bunch of parallel runs that are all doing a 4' drop, you may need a drainage control structure in each and every run and that could be cost prohibitive."
On new tile installs, Ferrie recommends getting a professional involved to help design a plan that is tile-gate compatible, making it more practical to install gates later if warranted.
To date, the Statelers have installed 17 drainage water management control structures and plan to add more as dollars permit. Each structure with gates can cost between $1,000 and upwards of $3,000 to install.
"The way I'm planning to recoup my investment is twofold," Duane says. "One is just being able to keep my nutrients where they belong. Second, I have more control over the availability of the water in fields now, and when I can manage that water effectively there's the opportunity of seeing my yields increase."
Corn yields across the farm currently average between 200 and 210 bushels, while soybeans average about 65 bushels per acre.
Because of the environmental benefits provided, Ferrie tells farmers to explore the availability of services that will help them cost-share the installation of water control structures.
"If you could hold back water that fell on your field in the winter, keep it through spring and early summer, and then use it in late June or July, that can result in a yield benefit as well as a reduction in lost nutrients. That can also help cover the cost of the purchase and installment," Ferrie says.
He adds that in the last three years (2016 through 2018) CropTech has on average seen a 10-bushel-per acre increase in corn yields and a 3-bushel-per-acre increase in soybeans, as a result of managing a water table with tile gates.
Duane Stateler takes the long view, hoping that his family's efforts will help ensure his grandchildren are the seventh generation to farm his ground. "Any way you can prevent water from leaving your fields and taking valuable nutrients with it is something that needs to be explored for the sake of farming today and in the future," he says.
At A Glance: The conservation measures Duane and Anthony Stateler have implemented include cover crops, a phosphorus removal bed, variable rate manure application, edge-of-field monitoring, drainage water management, and a wetland with pollinator habitat. The program is a joint effort between three Ohio farmers, the Ohio Farm Bureau Federation (OFBF), the USDA Natural Resources Conservation Service (NRCS) and more than a dozen formal and informal partnerships with farm organizations, conservation groups, educational institutions, non-profit organizations and community groups. The $1-million-dollar, five-year initiative goes through 2020.
Hula Smashes World Corn Record, Thinks 800 BPA Yields Possible
Overcome Each Field's Weakness