( Smithfield Foods )
A Smithfield Foods ad in the New York Times turned a few heads on Sunday. The ad featuring a photo of a masked employee, defends Smithfield's efforts to keep employees safe while providing food for the U.S., despite critics who claim workers were not adequately safeguarded against COVID-19.
"Our advertisement clearly states our position, namely that, food and agriculture workers are heroes, and unsung ones at that," says Keira Lombardo, Executive Vice President, Corporate Affairs and Compliance, Smithfield Foods. "Our entire country owes them an enormous debt of gratitude and far more recognition."
From the very beginning, Lombardo says the company's COVID-19 response focused exclusively on two things – keeping employees as healthy and safe as possible and fulfilling their obligation to the American people to maintain the food supply.
"COVID-19 has further emboldened many critics to point fingers at those of us 'in the arena' while they sit on the sidelines, ignoring one incontrovertible fact: We must produce food and someone has to do it," the ad said. "Certainly, it is not he critics who have answered the bell. No, it is our nation's food and agriculture workers who have done so."
The ad goes on to say that the critics pointing fingers have little knowledge of the facts and are creating false narratives and spreading misinformation.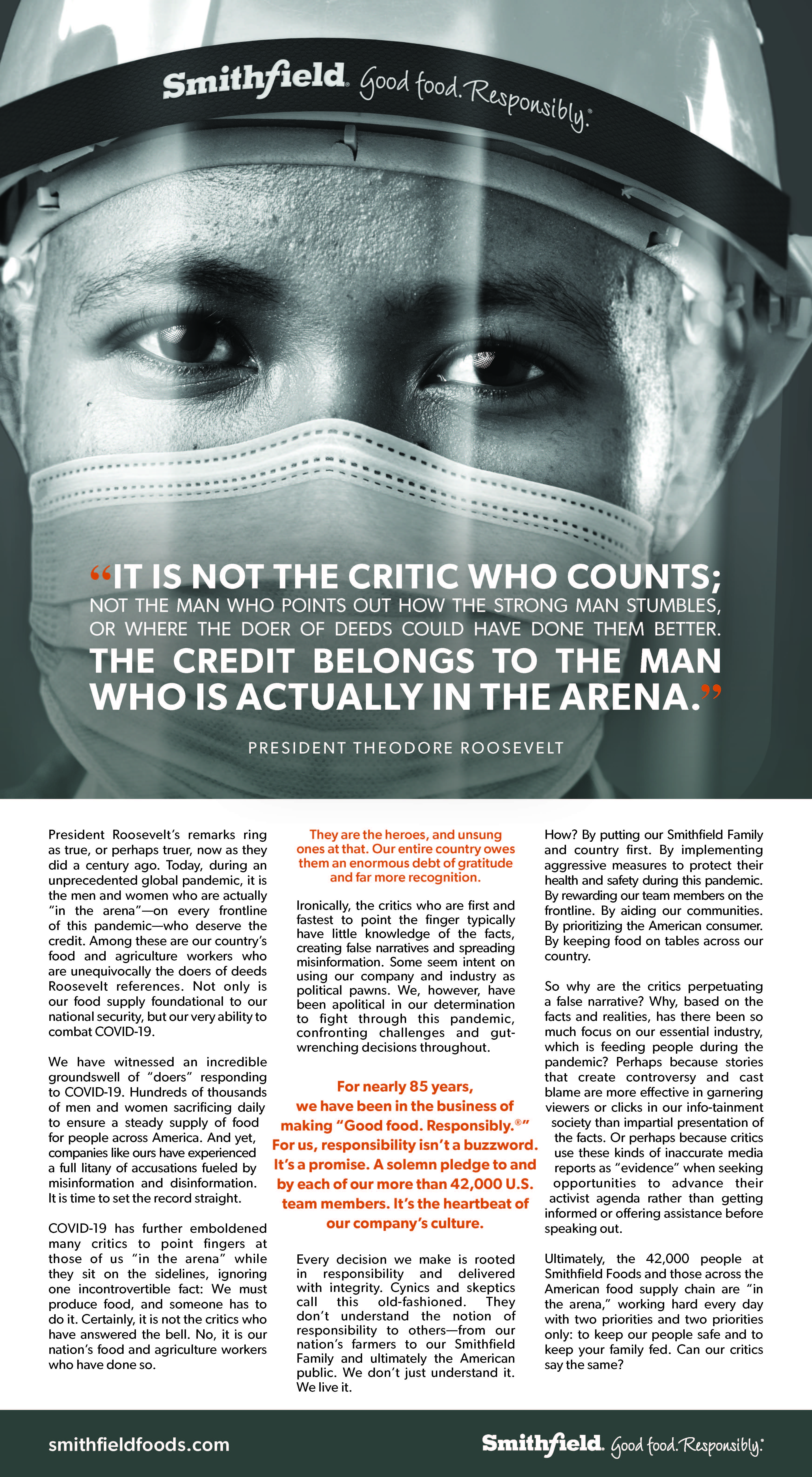 Source: Smithfield Foods
Bloomberg reports that U.S. meat and poultry plants were some of the hardest-hit sectors in the COVID-19 pandemic. More than 16,200 meat plant workers tested positive for the virus by the end of May and 86 died, according to a report by the U.S. Centers for Disease Control and Prevention.
The company said every decision it makes is rooted in responsibility and delivered with integrity.
"Why, based on the facts and realities, has there been so much focus on our essential industry, which is feeding people during the pandemic? Perhaps because stories that create controversy and cast blame are more effective in garnering viewers or clicks in our info-tainment society than impartial presentation of the facts," the ad said.

More from Farm Journal's PORK:
Smithfield Foods Addresses COVID-19 Response
COVID-19 Lawsuit Against Smithfield Dismissed
Smithfield Foods sued over conditions in Missouri during coronavirus
CDC Releases Recommendations After Smithfield Sioux Falls Plant Tour