A snow plow cleared pig intestines that had spilled on Interstate 670 in downtown Kansas City. ( Missouri Dept of Transportation )
A semi-truck lost its load Thursday morning, spilling pig intestines across Interstate 670 in downtown Kansas City.
The Missouri Department of Transportation (MoDOT) won Farm Journal's PORK's best tweet of the week when it told drivers to "Find an alternate snout. Sorry, alternate route."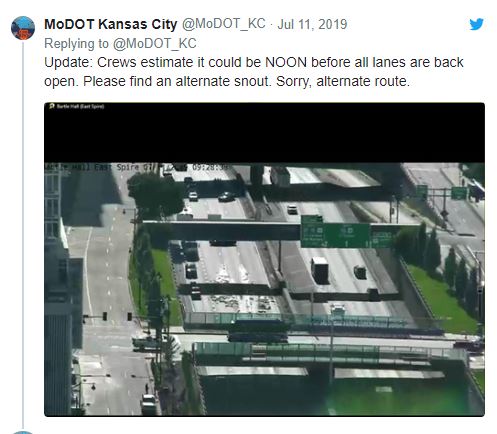 An emergency response truck with a snow plow blade rushed to the scene to move the pork product to the side of the road, the Kansas City Star reported.
The unusual spill, reported about 9 a.m., shut down three of the four lanes. Many drivers tweeted about the intense smell. Officials deployed snowplows, a Bobcat and loads of powdered soap to clean up the mess.
Within three hours, the department tweeted photos of the Kansas City Fire Department hosing down the road.
The cause of the spill is under investigation by the Kansas City Police Department. 

Read more from Farm Journal's PORK:
Tough Decisions: Animal Mortality Disposal During a Disease Outbreak
WASDE: Price Forecasts for Pork, Cattle Edge Back
Gangs in China Fake Outbreaks of African Swine Fever