( Pixabay )
From feed costs and capacity disruptions, to trade flows and political disruptions, the already volatile U.S. animal protein markets continued to grow more volatile in the third quarter, says the latest report from the CoBank Knowledge Exchange division.
Pork supply
The ripple effect of African swine fever (ASF) on global pork supplies is hitting the U.S. Not only have prices been on a rollercoaster ride this year, but trade volume is finally expanding. Expanding trade volume, along with signing important trade agreements this summer with Japan and Mexico, will also aid in improving sluggish trade flows so far this year, the report said. 
Analysts expect the U.S. animal protein supply growth to slow in 2019, but the cool, wet spring weather might mean the growth in 2019 will actually match last year's 2.5% growth. 
"As cool weather helped livestock convert feed into mass more easily, livestock weights across the sector rose, driving increased protein supplies through the summer. Live weights for hogs and chickens this summer have climbed to all-time highs seasonally, increasing supply by 1% to 1.5%," the report said. 
Spring conditions added 1.8% and 1.1% during June and July, respectively, to hog live weights. Increased weights coupled with reduced porcine reproductive and respiratory syndrome have increased pork supplies more than 4% through July over last year. CoBank said these factors are driving their new forecast for U.S. pork production growth to 4% in 2019, up from their previous forecast of 3%.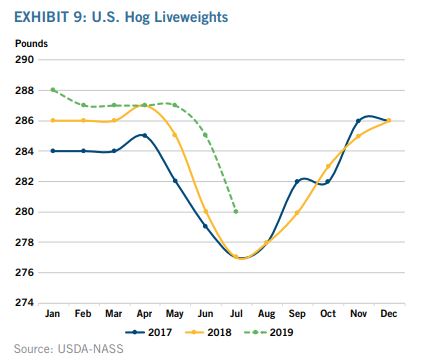 Hog futures
U.S. hog futures are incredibly volatile. In May, futures rocketed to over $90 cwt. then nosedived to under $60 at the end of August. 
CoBank said the changes in hog futures does not mean the ASF outbreak isn't as significant as people expected. But it shows the trade opportunities from the loss of hog supplies will be later in the year than expected. 
"With hog producer margins currently below break-even for the remainder of 2019, the incentive for further supply growth is tied directly with trade growth expectations to make up for international supply losses from ASF," the report said.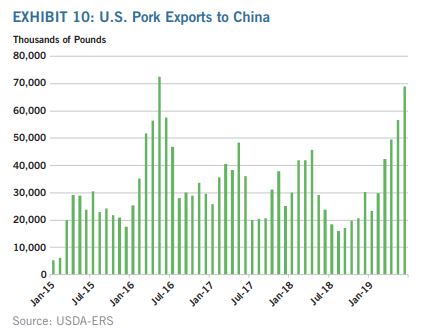 Trade opportunities
Although pork exports to China increased 28% the first half of the year, CoBank said this growth has been more than offset by a 20% decline in shipments to Mexico, 12% decline to Korea and 4% decline to Japan. 
"These are the top three markets for U.S. pork, so their declines are pulling overall exports down 2% – at a time where many had expected ASF to bring the largest trade flows in history," the report said. "Trade disputes and retaliatory tariffs are having a more significant impact than ASF on hog supply and demand balance."
As 2019 wraps up, it's important to note that the U.S. has resolved some key trade disputes in the steel and aluminum tariffs with Mexico and signed a new trade agreement with Japan. In addition, the U.S. set a new record for pork exports to China in July. 
"If these trends continue, and exports improve to Mexico and Japan, then U.S. supply and demand will continue to improve to a greater degree through the remainder of 2019 than the futures market indicates," CoBank said.
More from Farm Journal's PORK:
Hog Futures Hit Two-Month High
ASF's Impact on Protein Demand in China Could Have Long Tail