As pork prices fall, some economists and analysts fear more plant processing closures could come soon. That's as producers explore ways to reduce costs and weather this market headwind in order to not repeat the 1990s. ( Farm Journal )
Pork prices are reeling the effects of a global pandemic. Prices and producers are on a rollercoaster ride, as hope of better demand gave way to fears over whether buying could return to pre-virus levels quickly.
"There's been a massive shift away from food service towards retail, as well as some what's called renewed challenges on the export front," says Glynn Tonsor of Kansas State University. "At the same time, we have a lot of cattle and hogs that are scheduled to come to market here soon, and that was pre-determined by biological decisions a long time ago, so having all that mesh up is a challenge in the supply chain."
While the commodity sector, including hogs, saw price support Monday and Tuesday of this week, that hasn't been the case for the past few weeks. Prices were in a tailspin, resulting in a sudden drop in outlooks.
"I'm not sure where you pinpoint when COVID-19 officially onset. The first response was for prices to fall on demand fears, but then they surged as consumers filled their freezers preparing to stay at home, followed by a collapse of prices as the market returned to worrying about longer-term demand, with food service demand believed to be down 50% to 70%," says Arlan Suderman of INTL FCStone. "Since January 1, the composite pork product price is down 21%."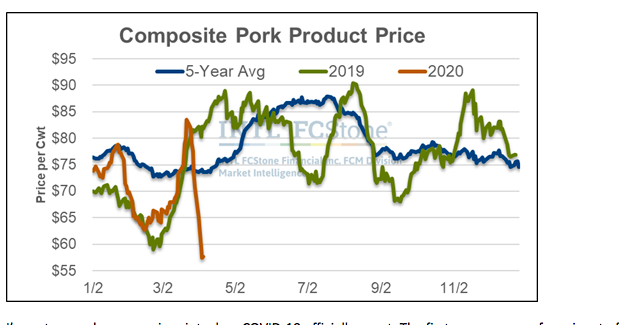 As a result, pork producers are looking at negative margins. Bob Utterback of Utterback Marketing says the plummeting prices are severely eating into outlooks, with most producers not seeing the profits at these levels.
"The July hog contract on January 1, 2020 was at $89.95," says Utterback. "It declined to yesterday's low of $49 for a $40.95 break. On a 40,000 lb. contract, a $1.00 move would equal $400. This means the break has resulted in a $16,380 loss."
Pork Processing Plants Shutting Down
Just this week, Farm Journal's Pork confirmed a plant in Columbus Junction, Iowa, shut down. The Tyson plant was forced to close doors to disinfect the plant after more than two dozen employees became ill with COVID-19. While the Iowa plant may be the first, those in the industry fear more closures are on the way.
"We have seen some sporadic shutdowns, as well as slowing the chains due to labor absenteeism and other labor disputes related to COVID-19," says Suderman. "This is a significant concern, since the hog industry works with a very just-in-time production chain from farrowing to harvest. The markets are worried about expansion of the disruptions in the days and weeks ahead."
"The talk is plants are only taking in their contracted hogs," says Utterback. "I cannot confirm how industry-wide this is, but suspect it's valid for almost anyone in the business. It's just likes the ethanol plants that are shutting down because of the drop in fuel demand."
Financial Impact of Shuttering Processing Plants
Tonsor says the longer these closures go on, the more severe it will be for producers and prices. He says the packing processing sector is always a potential bottleneck in the food chain, and he says with COVID-19 closures, it's becoming an even bigger hurdle. He says not just due to less demand from food service outlets and meat stacking up in freezers, but the inability to process at some plants. That's why Tonsor and Iowa State's Lee Shulz conducted an analysis over the weekend to explore the potential price impact from plant closures.
"We did two things," says Tonsor. "We estimated what the effect of a 1% reduction in capacity, both on fed cattle and hogs was, but I want to scale that up to what if we have a 20% national reduction, which I think is a real possibility in the current environment we're in."
Tonsor says for cattle, a 20% reduction in available capacity would result in a decline of 26.5% on the price of fed cattle.
"The story is actually more dire when we go over to hogs," says Tonsor. "A decline in 20% on hog processing corresponds with a 36.4% decline in price of market hogs. That larger impact, I think, reflects the more challenging adjustment for this one sector."
Tonsor says the losses in the hog sector could be magnified due to market hogs already scheduled for processing at plants and producers' inability to slow the growth of those animals. He says the system was already full of market hogs scheduled for processing, that any disruptions – either slowdowns or shutdowns – means the market couldn't afford any issues with processing.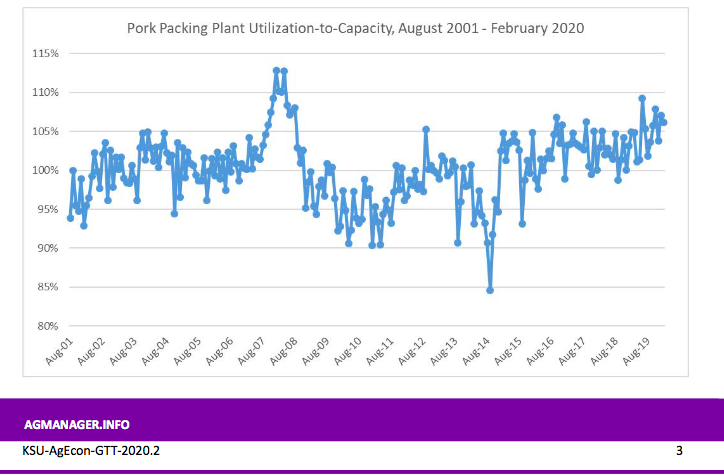 "So, how many closures can we afford? The answer is zero," says Tonsor. "But obviously, there's a whole scale of minor impact all the way to catastrophe. And it's hard for me to say exactly where we're at in the middle of that spectrum."
Tonsor says the million-dollar question is how long the plant closures or slowdowns last and how much of those disruptions are already priced in.
Suderman thinks the market has priced in its current fears, but reminds producers those fears change daily as the information coming to it changes. He says no assumptions are safe until the market can confirm that the worst is behind us. 
"This presents the biggest risk for pork prices going forward, followed by fourth quarter slaughter capacity concerns," says Suderman. "There are also considerable concerns about concerns about longer-term demand. History tells us that people tend to consume smaller portions of meat when they eat at home versus eating away from home. We still do not know how long it will be before people are comfortable returning to their previous patterns of eating out."
Other analysts agree saying more down-side risk could be building in the weeks ahead, especially if processing plants shut down and consumers' eating habits change.
"The biggest risk moving forward is consumer demand stays weak and virus stays longer than projected," adds Don Roose of U.S. Commodities. "There's also risk in more slaughter shutdowns and hogs backing up."
"Much of the futures price decline is factored in, but I wonder about where the non-contracted hogs will go," says Utterback. "The implication is on-farm weights will build and basis – the difference between cash and futures prices –  could be excessive. I suspect it will take lower slaughter runs developing this summer rather than a recovery in cash basis to help pork prices."
Is This a Repeat of the 1990s?
As the margins continue to tighten and many producers face red ink on their balance sheet, some producers fear this could become the 1990s.
"The '90s collapse was the low-point for the industry," says Suderman. "We are not there yet, but we also don't know how this will continue to play out yet. Will we see labor unions strike and not show up to multiple plants? The hog industry has little margin for error. The catastrophe of the 90s is on everyone's mind until we see how this finishes playing out."
Tonsor agrees that this isn't a repeat of the 1990s, yet; however, he cautions the industry could see more producers go out of business.
"The number of independent operations that sell on the negotiated cash market is very small today in contrast to say 1995 or in that pre-1998 period," says Tonsor. "One of the big things that happened after the '98 experience was independent producers could not get access to packing plants. That's what drove the reported $0 per market hog or $8 one week in Iowa at the low point in 1998."
Tonsor says the market adjusted after that and more people moved away from negotiated prices and entered into formula and contractual relations. He also says that's a reason livestock prices and sales are documented nationally.
"There are a lot of things different in the industry structure, producers are more aligned formally in contracts, and in some cases, as owners in the packing sector, than they were then," says Tonsor. "So, I actually think the ability for the industry to absorb this is greater today than it was back in the 1990s. But that's not to say individual actors aren't going to go through the same experience we saw back then."
As prices fall, Roose says fears of the late 1990s enter producers' minds, some are going to extreme measures to try to reduce the financial losses they could face this year.
"We're currently hearing pigs being euthanized and sows being liquidated," says Roose.
The Pork Sector Post-COVID-19
Tonsor says he has full faith the pork supply chain will get through this pandemic and unsettling time, and the U.S. will remain a major pork processor. However, he thinks the pork sector could see change and look a little different.
"I'm very confident that a view on labor and 'just in time delivery' in the supply chain is going to be different in the future," says Tonsor. "I have a concern that the entire globe is moving into a bit of a populistic domestic food security and 'supply security at home' mindset. That's perfectly rational in the short-term given the middle of this pandemic, but if that persists longer-term, that does not speak well for the nature of globalization and international trade."
Utterback also thinks the recovery period could be a risk for pork producers, especially not knowing how long the pandemic will last and the implications on demand.
"It's the same risk all ag producers have to face," says Utterback. "The risk is demand recovery will be slower while producers enhance supply to make up for lost revenue. The end result is prices may have to go to exceptionally lower levels to clear inventory and force domestic producers to reduce overall production. The odds of a 'v' bottom are low."
Related Stories:
Tyson Shutters Iowa Pork Plant Amid COVID-19 Outbreak

Supply Chain Bottlenecks Pose Concern in Pork Markets
 
Uncharted Waters: High Uncertainty in the Pork Industry