Annamaria Marangoni has called many places home in her career. She says each new culture has opened her mind, taught her lessons and helped her understand the importance of inclusion and positive thinking. ( Provided by Annamaria Marangoni )
Q&A with Annamaria Marangoni continued
Q. What is your business philosophy?
A. Our success is helping you achieve your success. We want to nourish the world in a safe, responsible and sustainable way. We are bringing more innovation and expertise into our business as we seek to meet customer demand for a changing marketplace. We don't want to feel like a supplier, we want to feel like a partner. We want to support our customers to fulfill the needs of people today and tomorrow in a sustainable way. 
Q. Who inspires you?
A. One of my colleagues helped me take a good look at myself and who I am and what I can do. I used to have low self-confidence. When I made this job change, it was not an easy time in my life. However, this colleague helped me grow my confidence. I learned how I could speak positively to myself, and this allowed me to better support my colleagues and customers. 
Q. How is your business changing? 
A. Our purpose is to partner with our customers, fulfilling their needs, to enable them to feed the world of today and tomorrow with a profitable and sustainable business. In 20 years, I see our company focused less on producing products and more on producing solutions for our customers. Yes, we produce feed products, but this is just how we convey our solutions to customers, not our reason to exist. 
Q. Can you share an example? 
A. We are looking more at the animal itself – not how to cure or make a solution to the problem – but more on how we can help prevent the problem. How can we help our customers have healthy animals from beginning to end? How can we put our customer in control of their profits? It's a very volatile market, and a lot of times you try to do your best on performance, but it's not enough. Sometimes your best isn't enough, due to grain prices going up or meat prices dropping, but can we help them be more in control? This is where we have developed our digital nutrition solution where we basically work with biological modeling of animals, inputting different variables and scenarios. Then we can help our customers look at all of the different options and really see what is best for them.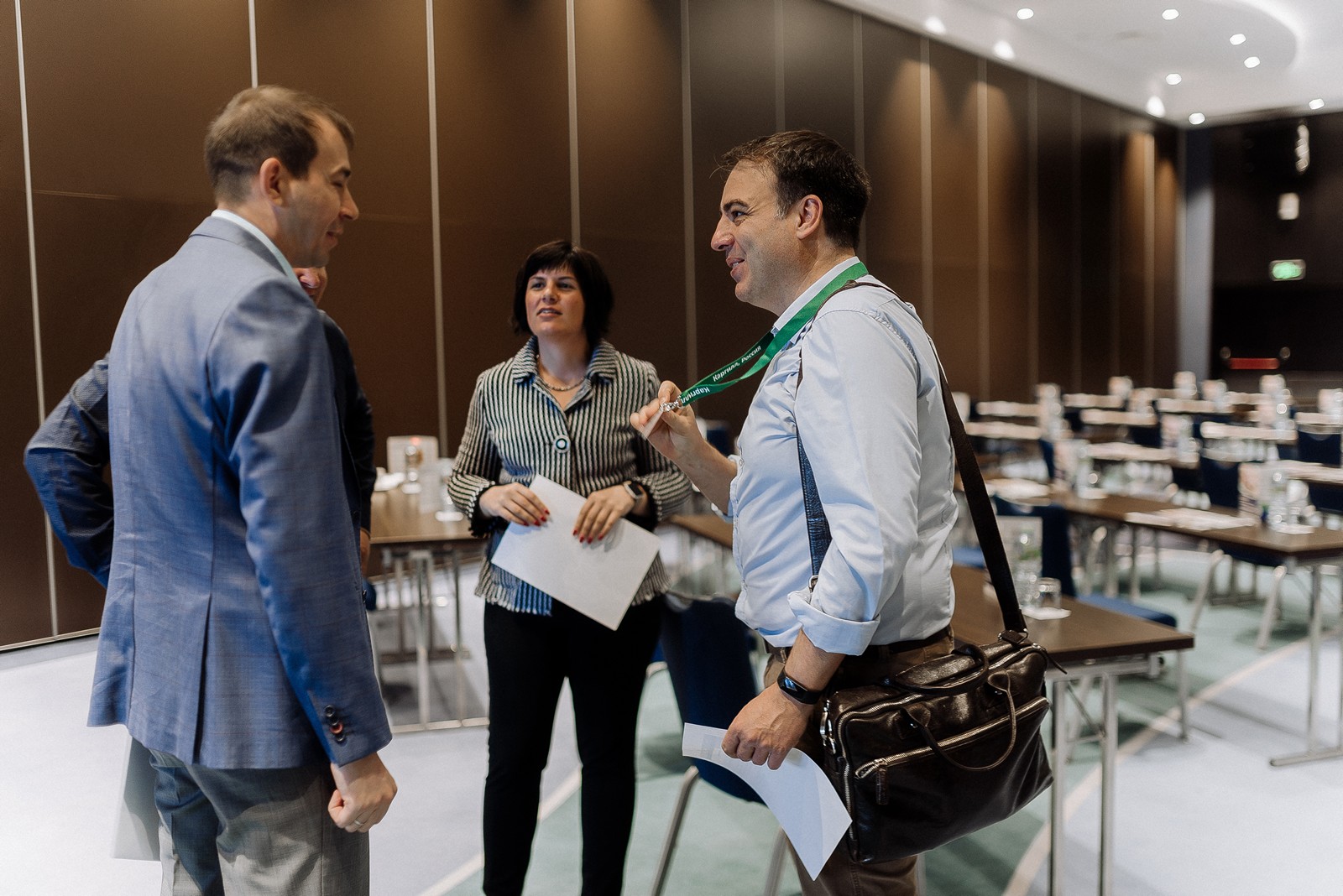 Marangoni (center) encourages producers to think about how they can position what they produce rather than just make it profitable.
Q. What questions should producers be asking themselves to stay relevant? 
A. It's a very competitive market. How can you tell your story? Why should consumers buy your product and not someone else's? How can you position what you produce rather than just make it profitable?
Q. What advice do you have for someone who might like to do what you do someday? 
A. In Italy, the agricultural business is a very male-dominated business. There's often a lot of prejudice. Because of this I would encourage someone interested in a career like mine not to give up. Participate in internships and graduate programs. Try to connect as much as possible. There are so many opportunities to take advantage of today to connect that I didn't have years ago – LinkedIn, websites and so on. 
Have confidence in yourself, but balance it with humility, as we can always learn. Seek to understand why, don't come into a job thinking you know better. Respect when someone is giving you a hand and let people help you. I have learned that when people believe you are honest and have the best intent, they will give you a chance. 

More from Farm Journal's PORK Perspectives:
PORK Perspectives: A Minute with Frank Brummer
PORK Perspectives: A Minute with Zoetis' Robbie Moody
PORK Perspectives: A Minute with Topigs Norsvin's John Eggert