( National Pork Board and the Pork Checkoff )
When it comes retaining employees, motivation makes a difference. Some people are motivated by being a part of something bigger than themselves. For others, it's doing work that they believe contributes to the greater good. And for some, it simply comes down to the money. 
There's no question agriculture, and the swine industry specifically, is a competitive job environment and employers are looking for ways to attract employees and keep them. 
The Wall Street Journal says that a high employee turnover rate can cost "twice an employee's salary to find and train a replacement." Not only are there financial repercussions, a high turnover rate can also lower the knowledge base in your company and decrease performance and morale.
Farm Journal's PORK wants to hear what motivates you to do your job day-in and day-out in the swine industry. Answer our PORK Poll below.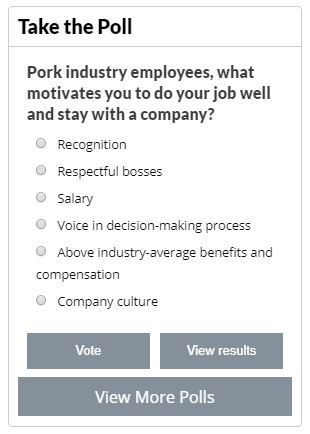 More poll results from Farm Journal's PORK:
PORK Poll: Could Marijuana in the Pig Diet Make a Difference?
Poll Results: Just "Baconize It!"
Livestock Producers: Do You Drug Test?