Patrick Bane helped judge the annual Swine and Wine event at the 2019 South Beach Wine and Food Festival in February 2019. ( National Pork Board and the Pork Checkoff )
After a year of serving as America's Pig Farmer, Illinois pork producer Pat Bane handed over the reins to Pennsylvania pig farmer Chris Hoffman on Oct. 1. Although his pace may change a bit as he readjusts to less travel and more pig farming, he says the experiences and lessons learned will stay with him for a long time. He discovered many things from his year of service representing the U.S. pork industry. 
At the top of the list is the importance of being honest and transparent. 
"Be real," Bane says. "We don't have to give the impression that everything is rosy and perfect all the time. Because it's not, at least not on my farm anyway."
He encourages pig farmers to tell their stories of hardship.
"Not only does this help us develop rapport and empathy with others, but it also helps us build a connection. And ultimately, that's what we need to do," he says.
I spent some time with Bane a year after he was named America's Pig Farmer of the Year to find out what he learned and how it changed him as a person and as a pig farmer.
Q.  If you could describe your year as America's Pig Farmer in one word, what would it be?
A. Inspiring. 
Q. What was the most surprising experience you had this year?
A. The most surprising experience I had was attending the American Humane Certified's Humane Table in Washington, D.C. The attendees were focused on animal welfare and animal care, but there was a desire to hear and understand the farmer's perspective. I was surprised that I was the only pig farmer in the room. I was surprised how welcoming they were to me and found it to be a very rewarding experience.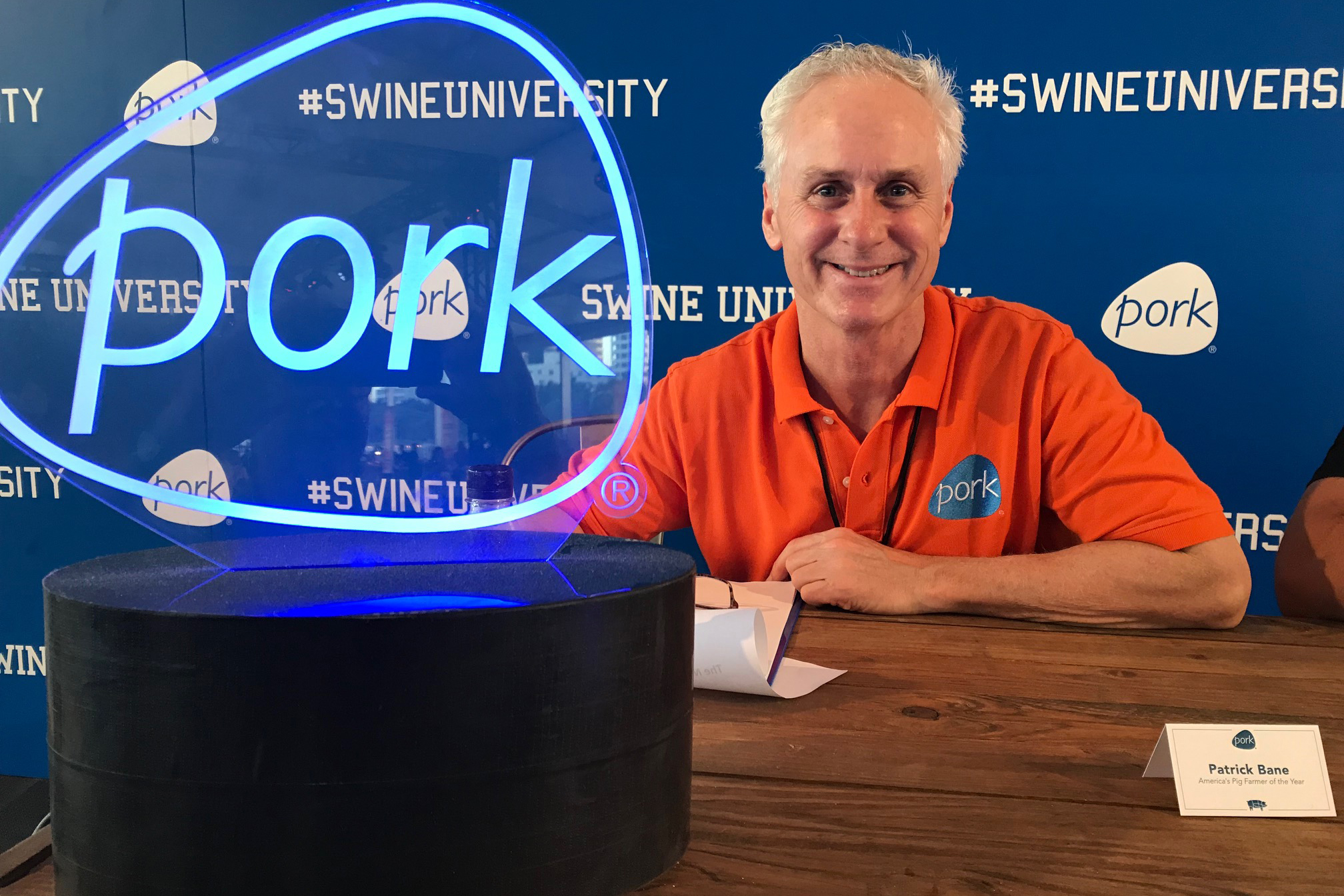 Bane serving as a member of the judging team at the annual Burger Bash at the South Beach Wine and Food Festival in Miami last February.
Q. When you look back, what stands out to you as one of your biggest learning opportunities?
A. I had several meetings with influencers learning what they want to know about what I do as a pig farmer. It was humbling to me as a pig farmer. In some respects, partly due to biosecurity, I live in my own world. It was an honor to visit with these people who focus on promoting a product and to discover their desire for more information on how we raise animals and care for them.
Q. How will you be a better pig farmer now because of this experience?
A. During the Swine Innovation Summit in Indianapolis, I served as a panelist to ask questions of the five inventors presenting their new products. The majority of the inventions directly correlated to my business and triggered me to look forward, considering new ways to solve problems and improve animal welfare on my farm. I made several contacts during the event and have several meetings planned with the inventors to discuss their products ranging from automated power washers to technology that monitors feed bins and directly communicates with feed suppliers for timely feed delivery. These are just two examples that piqued my interest to look at new and better ways to do what I do.
Q. It sounds like you had an amazing year. What was the most fun thing you did?
A. That's an easy one – the South Beach Wine and Food Festival. What's not to like about South Beach in February? I served as a judge in two of three marvelous events. I enjoyed the finest preparation of pork products out there from world-renowned chefs and had great conversation with friendly people interested in my end of the product they serve. During the day, we spent time working in a tent for the National Pork Board at a children's park. We played games with the kids and their parents, teaching them about where their food comes from.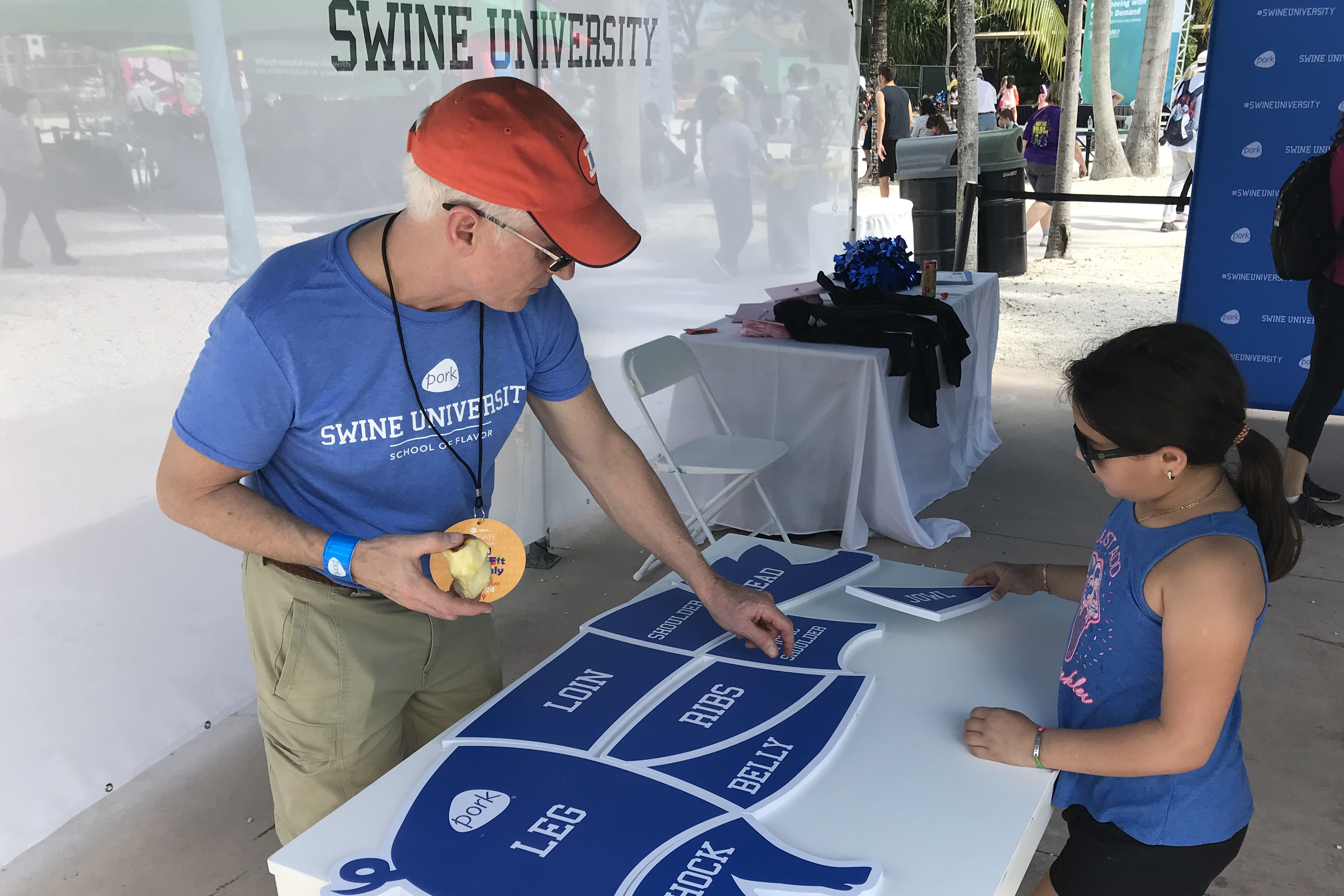 Bane helping students at "Swine University" at the 2019 South Beach Wine and Food Festival with a hands-on puzzle activity for children to identify cuts of pork.
Q. If you could have the year back, is there anything you would do differently?
A. I wish I would have done more on social media. I tried to do some good things – my wife was always reminding me to post. But at my age, I'm just not that comfortable on social media. I think I did OK, but I probably could have done more.
Q. What was the greatest challenge you faced last year?
A. I'm still a full-time pig farmer with a lot of irons in the fire on a farm that is aging rapidly. I enjoyed the trips I took immensely, but it was a challenge at times to juggle everything and make sure there was no fallback or issues on the farm. Fortunately, I was able to make it work and didn't have to turn down any events. The hardest event to attend was the American Humane event because harvest was pushed back and I had a lagoon to pump. I worked around the clock for a week to get manure spread and do everything I needed to do before winter hit. But all of those challenges were well worth the experience.
Q. What did you discover about yourself?
A. I have always been active in promoting what I do as a pig farmer. One thing I've learned is that you have to listen first and figure out where the person you are talking to is coming from. I think I knew this coming in but serving in this role gave me the opportunity to improve myself and learn different ways to respond. As the old saying goes, "People don't care what you know until they know that you care." You have to build personal relationships and talk about things that are important to them, not necessarily things that are important to you.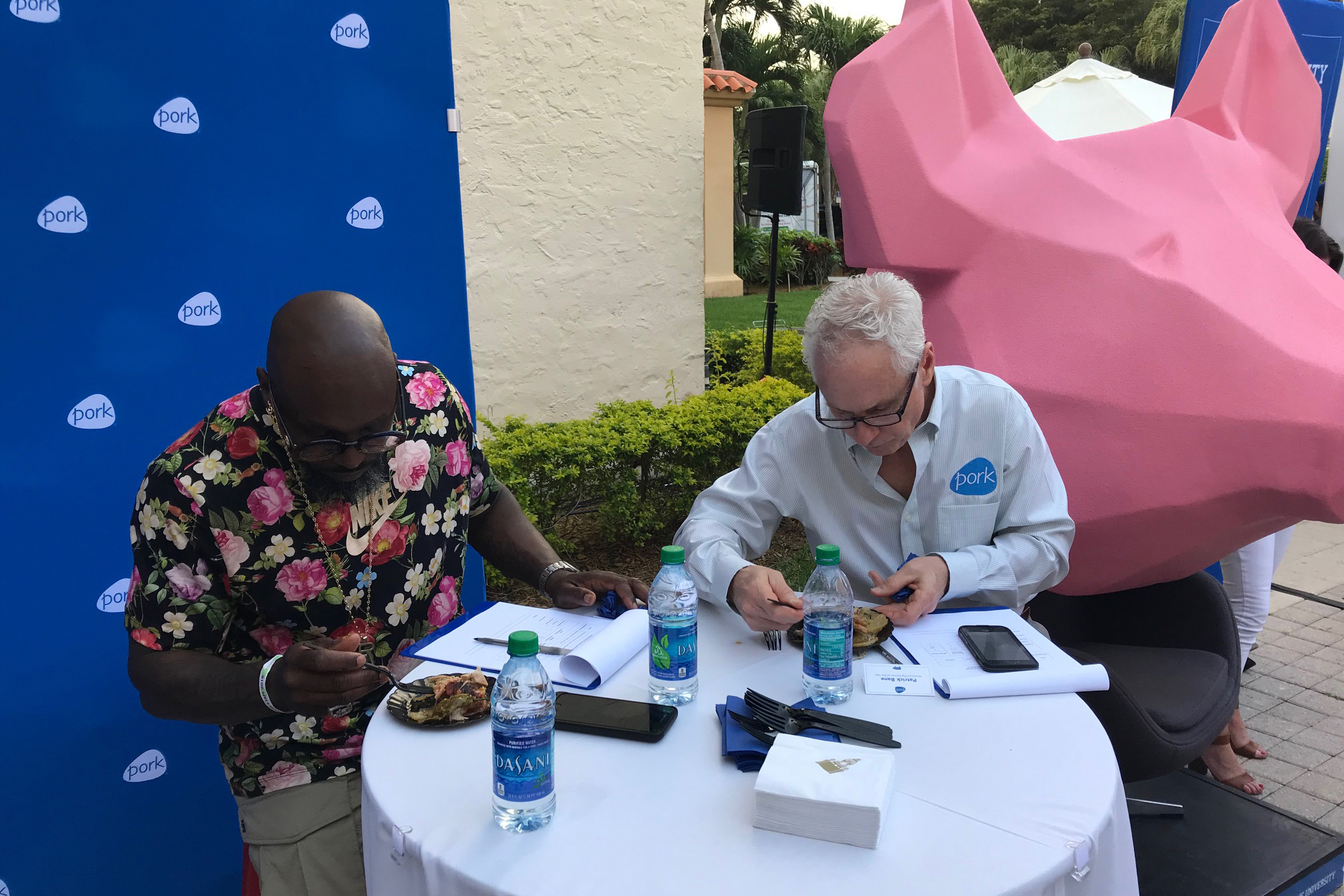 Judging the annual Swine and Wine event at the 2019 South Beach Wine and Food Festival.
Q. What advice do you have for someone considering running for America's Pig Farmer of the Year?
A. Go for it! The National Pork Board is so supportive. I was impressed by how helpful they were from coordinating travel to helping me polish my speeches. It was a rewarding experience and I cherished the whole year. 

More from Bane's year on Farm Journal's PORK:
Whatever It Takes Series: Illinois Pig Farmer Pat Bane Tells His Story
A Behind-The-Scenes Look At Pig Farming
Whatever It Takes: Pat Bane Shares His Story