( National Swine Registry )
Continued
By Hannah Frobose, National Swine Registry
Raising Pigs and Raising Kids
Keeping the future in mind, the focus shifted in the early 2000s. With the sales of commercial purebred hogs decreasing, the association had to search for new ways to keep the purebred swine industry alive. No one suspected, however, that the source of the NSR's revival would come in the form of a junior program.
Jennifer Shike, current editor of Farm Journal's PORK and former Director of Junior Activities at NSR, is credited for the major strides in creating the National Junior Swine Association. As an intern for NSR, Shike helped develop what we now know as the largest youth livestock association in the world.
"A lot of folks said that pig associations would never have junior associations like Angus or Hereford or any of the cattle breeds, and it didn't take long to prove that was immensely wrong," said Ernie Barnes, director of industry services at the National Pork Board.
Like the struggles of merging the breeds, the growth of the junior program was no walk in the park. Kade Hummel, former NSR fieldman and current sales manager for Lindner Show Feeds, recalls specific challenges that he and Shike faced when trying to introduce a show in the southeast.
"There was a tremendous amount of pushback," Hummel said. "We went to Georgia to visit the facility, and the manager put his arms around Jennifer and I as he laughed and said, 'You will never have a purebred hog show in January here in Georgia that will be successful.'"
Yet, perseverance prevailed and The Southeast Regional now serves as the largest regional show in existence, with more than 400 exhibitors and nearly 1,000 hogs exhibited in 2019.
Hummel said, "Coming back in 2019 to judge that gilt show, I was able to see what it had become as a result of the perseverance of the purebred swine producer and the eagerness of the NJSA member. It was just an unbelievable sight and a warm feeling to know that we knew then that this potential could be tapped, and our leadership at NSR allowed us to explore it."
The junior program has provided many avenues beyond the show ring that have served to connect youth to the broader swine industry. Competitive educational events like the skillathon and livestock judging contests reward kids for their efforts to learn more about pork production, as well as the retail sector. The National Youth Leadership Conference serves as a bridge for members to connect with industry professionals who can help them identify potential careers in the industry.
"I'm a huge believer in the impact that NJSA's leadership conferences can have on young people," said Shike. "Challenging them to stretch out of their comfort zone, learn new things and develop leadership skills that will help them the rest of their lives – all in the company of great friends who share their same passions."
Now a mom of three young NJSA members, Shike is thankful that her kids can grow in a program that allows them to be part of something larger than themselves.
Shike said, "I look at what my kids know, and I am overwhelmed sometimes thinking, 'Wow I didn't know any of that when I was their age.'"
Another valuable aspect of the youth program is the NJSA Junior Board of Directors. Individuals who serve on the junior board gain opportunities to network with breeders and industry leaders, while simultaneously interacting with younger members to teach them how they can become more involved in the NJSA and the swine industry in general. 
Aimee Inskeep, a current sales and marketing strategist for Shaffer's Goldrush but also a past NJSA Junior Board of Directors president and former NSR Youth Advisory Board Member, credits her time in the NJSA for helping her confirm her ultimate career path in the swine industry.
"We all think it's just about showing pigs," Inskeep said. "Though that's a big part of it, it's really an avenue to other passions. It's a great gateway to helping you realize what you want to do."
Today, the NJSA is attributed for reigniting the NSR's programs and events.
Baker said, "I don't think any of us in the late '90s had any idea that the junior program would grow in such leaps and bounds as it has. The NJSA has really made it possible for the National Swine Registry to exist."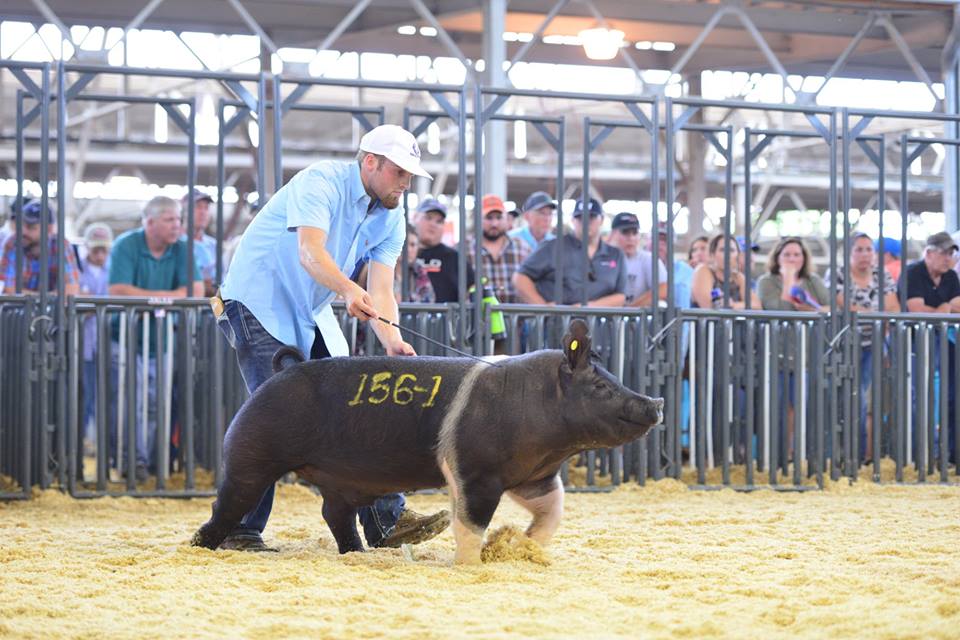 Making a Lasting Memory
Beyond enhancing the value of pedigreed hogs and maintaining breed integrity, the NSR has truly impacted the lives of the people in the swine industry. Throughout the last 25 years, everyone from the fieldmen to the showmen, has gained a family through their time with the NSR.
"I still call a lot of the older breeders that I worked with when they sell a boar for good money or they achieve an accomplishment, because I still think it's a victory for all of us," said Hummel. "No matter whether you work for the NSR for six months or six years, you're always a part of that family atmosphere." 
The community of people that have passed through both the NSR and NJSA stand together in advocating for the pork industry, and many individuals have found their calling through their time involved.
"That's what means the most to me," Shike said. "Being able to see lives changed, dreams realized, opportunities seized in the faces of kids and their parents in the crowd. We need each other in this industry. We are up against a lot of enemies who don't understand what we do in agriculture. Youth shows provide a window for the world to see how much we care about our pigs in this industry."
More from Farm Journal's PORK: