( Karlene Krueger )
Watching her daughter's growing love for agriculture means a lot to Karlene Lindow Krueger of Campbellsport, Wisc. It wasn't too long ago that Karlene was buying her first steer as a young FFA member. And now, it's her daughter's turn.
"There's something to be said about shared passions," said AgDay national reporter Betsy Jibben during the interview. 
McKinley, a first-year FFA member, purchased her first heifer from the same person that her mother bought her first steer from. 
During McKinley's ag class, the students were recently challenged to name famous members of FFA. Although others found the assignment challenging, McKinley did not. And one of the names she didn't forget to mention? Her mom.
Karlene's FFA jacket was selected and sent to be displayed at the Smithsonian in Washington, D.C. in 2014.
"When I first got the phone call from the FFA National Organization, I was shocked and surprised. They were like - take a day to think about it and I really had to think about it. I thought this is my jacket, you know. I won with that jacket!"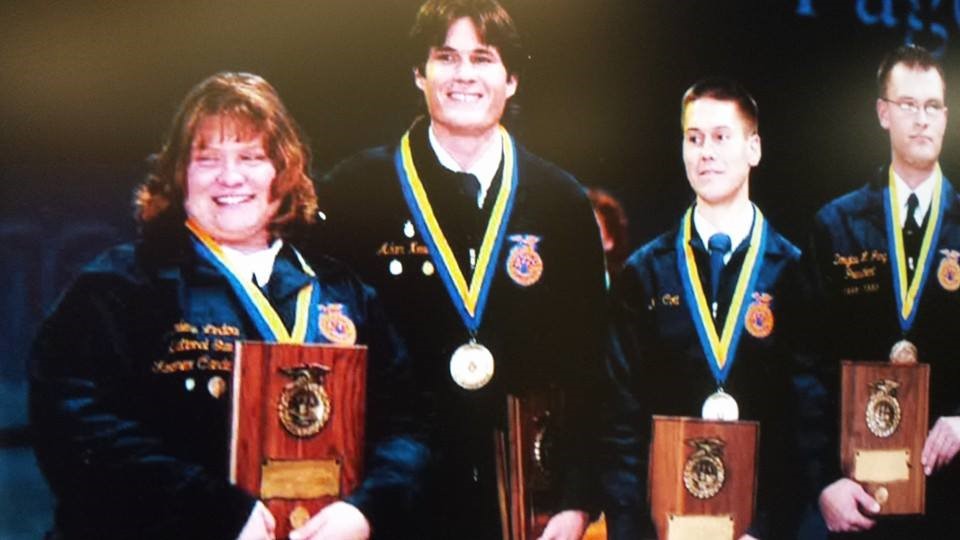 Karlene (left) on stage receiving the American Star Farmer Award at the 2002 National FFA Convention.
National FFA selected her jacket after she was honored with the American Star Farmer Award in 2002 – the first female honoree.
Karlene's FFA journey started with a drive to be involved in agriculture and FFA, competing on the parliamentary procedure team at her high school. They ended up winning the state contest. The following year, in 1998, she traveled again to National FFA Convention and was named one of the top four proficiency finalists in swine production.
"These proud moments and the American Star Farmer Award in 2002 led her to be one of the handful of rotating jackets at the Smithsonian, an exclusive group which also includes Jimmy Carter's blue jacket," Jibben said.
It's rewarding to know a piece of clothing I wore hangs in a collection with a piece of clothing he wore, Karlene said. 
"To know we both grew up in the FFA and the fact that we gained our leadership skills the same way in this wonderful organization is amazing in my opinion," Karlene added.
For Karlene, it's all about the little things – the work, the moments and the memories she's passing down to her family along the way. She encourages FFA members to get involved and as be active as they can in the organization.
Watch the full interview on AgDay.

More from Farm Journal's PORK:
FFA Proficiency Finalist Strives to Make Ag Fun
FFA Teacher For 40 Years Is #AgProud