( Portia Stewart, Farm Journal )
A new feed intervention is poised to help improve biosecurity and may even prevent transmission of viruses including Seneca Valley virus (SVA) and African swine fever (ASF) that may survive in feed. 
Pipestone Veterinary Services shared their research and their new strategic partnership with Alltech at the 2019 Alltech One Ideas Conference. 
In 2014 Pipestone veterinarian Scott Dee first identified that Porcine Epidemic Diarrhea virus (PEDV) could survive in feed. Armed with the knowledge that feed can move viruses, Pipestone is turning their attention to China and ASF.  
To understand China and their challenges with ASF, first you must understand China's farm structure. For perspective, Pipestone veterinarian Dr. Gordon Spronk says China's sow population is estimated at roughly 25 to 35 million sows, while the U.S. is roughly 6 million sows. About 20% of farms practice large production techniques like North America and Europe, while the other 80% are traditional smaller farms.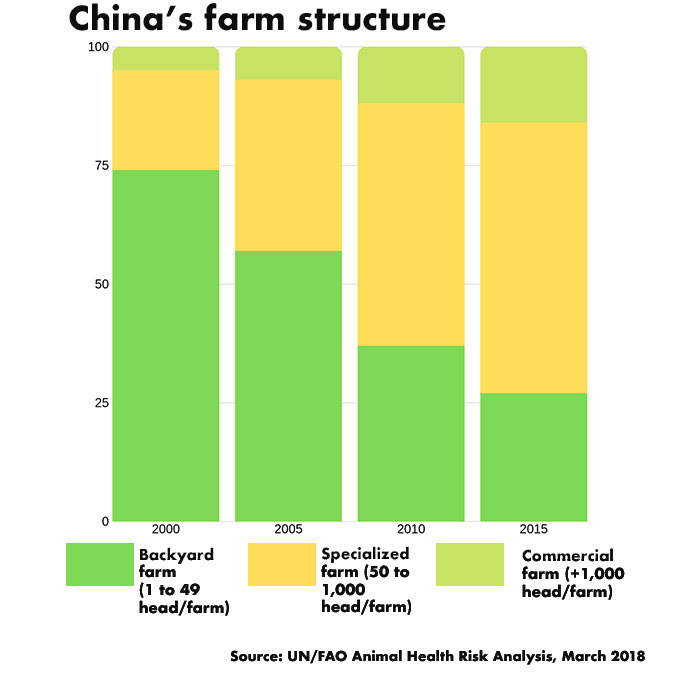 Second, China is a fresh market, and ASF lives in red blood cells. 
"ASF is one of the most severe viruses that infect our pigs because of the mortality rate. And the risk of feed ingredient contamination is high," Spronk says. "So we quickly concluded that interventions need to be considered to add to the biosecurity portfolio we've already put in place." 
Dr. Jon De Jong, president of Pipestone Nutrition, says extensive testing has shown ASFV is present in raw materials in China. Dust samples drying on ground from bulk feed ingredients were tested. Several thousand samples were collected at a rate of 250 samples a day. Results showed 1% to 2% of complete feed and ingredients tested positive for ASFV DNA. Positive ingredients included corn, soy, rice, wheat and distiller's dried grains with solubles (DDGS). 
ASFV DNA was also detected in dust. Sources included the feed mill environment, feed trucks and trailers, complete feed in bins, personnel's hair and soles of shoes and the fresh market environment. 
"The North American market imports a lot of feed ingredients from Asian countries and other countries that could have infections of African swine fever," De Jong says. 
With this framework, Dee began to explore the survivability of various viruses during transpacific travel. 
"Dr. Dee focused on a number of different ingredients," De Jong says. Two specific areas of focus were Seneca Valley virus as a surrogate for foot-and-mouth disease and ASF virus. Both of these viruses survived a simulated 37-day trip across the ocean in materials that ranged from conventional soybean meal and soy oil cake to choline, moist dog and cat food and complete feed with control. 
Once they established the viruses could survive the trip, De Jong says the second question was whether the virus could still infect pigs. Recently completed research by Dr. Megan Niederwerder at Kansas State University shows ASFV is transmitted through feed and water. 
"Quality control becomes critical. You can make sourcing decisions. Are you going to source ingredients from countries with ASF?" De Jong asks. "So the question becomes can we mitigate the viral load that could be in those feed ingredients?"
Simply put, research points to yes. Alltech has partnered with Pipestone and Cornerstone to develop the dietary intervention product APC (Alltech, Pipestone, Cornerstone), designed to improve the farm's biosecurity platform. APC is a proprietary blend of organic acids and essential oils. When added to feed, APC has shown efficacy to prevent the transmission of PRRSv, PEDV and SVA in feed. The product is under registration now and will be available in the U.S. within the next 30 days.
Mitigation of virus in animal food may prove a critical biosecurity link to prevent ASF, as the disease mortality is near 100%. The virus moves slowly in and between populations, and De Jong says biosecurity interventions, including feed, may help stop the movement. 
Find a complete guide to ASF, from how the disease spreads to how to prevent it, at porkbusiness.com/ASF.
Learn more about how lessons learned from PEDV could keep ASF out of the U.S.
Read how Dr. Sánchez-Vizcaíno, DVM, of Madrid, Spain, eradicated ASF from Spain. 
Also read determining the risk of African swine fever in vitamins.