( National Pork Board and the Pork Checkoff )
Bailee Arnold set out to build and manage chicken houses, but somewhere along the way of pursuing her associate's degree in livestock and poultry management at North Carolina State University Ag Institute, Dr. Billy Flowers "hogwashed" her brain.
"He showed me how much fun working with pigs can be and I've been in this industry ever since," says 27-year-old Arnold, one of the National Pork Board's three 2019 Pig Farmers of Tomorrow. 
Arnold manages a 2,000-sow farm for Maxwell Foods, LLC, in Goldsboro, N.C. But she'll be the first to tell you that she never imagined she'd be doing what she does today. 
"Just because you didn't grow up on a farm, doesn't mean you can't find a hidden love for agriculture," Arnold says. "I knew nothing about animal farming. I only grew up around cash crops. I fell into it by happenstance and I'm so glad I took that leap of faith and tried something I never knew I'd like."
Being named a Pig Farmer of Tomorrow has been a real honor, she says.
"The night I got the email, my then 2-month-old was asleep in my arms. I 'whisper screamed' to my husband in the other room, 'I got it!' We did a silent happy dance that night in the bedroom," she laughs.
As a young mother and a pig farmer, Arnold wants to maximize her influence by showcasing how she balances the two. 
"I want people to see that I farm in a way that provides a safe and healthy product for my family and also in a way to leave a great environment for my daughter to grow up in," Arnold says.                               
Her enthusiasm and compassion for the animals and the people that work for her have allowed her to find success in her career, says Billy Flowers, William Neal Reynolds Distinguished Professor at North Carolina State University.
"I think this is where all good stockmanship begins," Flowers says. "You need to want the best for the animals that you care for, so you spend quite a bit of time observing them and trying to figure out how to improve things. This often requires contacting people or trying to find things on line, etc., that others have tried or suggested to make things better for both the pigs and the people that work with them."
Arnold believes misunderstanding and the spread of falsehoods is one of the greatest challenges the pork industry faces. 
"We must stand up and show the care and responsibility that goes into pig farming. Not only do we care about our animals, but we also care about our planet and consumers," Arnold says.
Social media provides major opportunities for farmers to share their story. She encourages young pig farmers to use technology to help consumers make a connection to farming.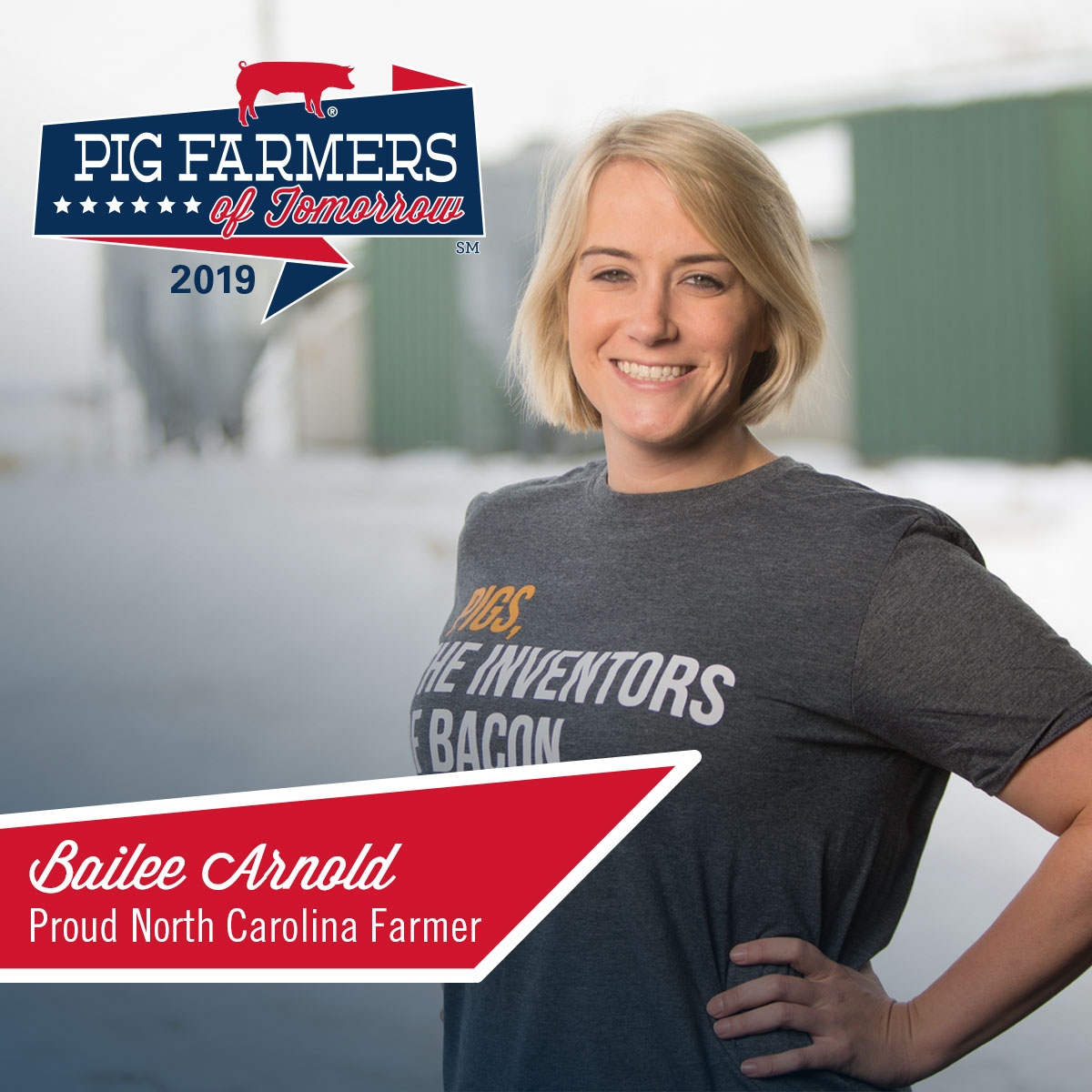 "Not everyone has the opportunity to grow up around agriculture. It's our job to bridge the gap," she says.
Steve Rommereim, National Pork Board President, says Bailee's enthusiasm for the pork industry is uplifting.
 
"Listening to her share personal stories of what she does in the barn every day, reminds all producers why they are raising pigs," Rommereim says. "And her ability to reach beyond our industry with that same message helps many to see firsthand We Care in action."
Agriculture needs more young leaders like Arnold to pass the baton to. She encourages young people to check out what the pork industry has to offer. 
"If you love animals, teamwork and working with your hands, we need you," she says. "The future of farming relies on you."

Related Articles:

Next-Gen Pig Farmers Challenged to Share Their Story
From Pigs to Politics: Meet Adrian Austin
Pork Board Names 2019 Pig Farmers of Tomorrow
Up & Coming Leaders: Meet Kimberlee Baker