Sometimes life presents you with the rare opportunity to take a step back and enjoy the view. As I sat on the Industry Influencers panel during The Exposition in early June, I was humbled and amazed by the faces in the crowd and the stories that sat before me. 
Just 15 years ago, I was on these very same fairgrounds starting up a live hog show for youth during the World Pork Expo. The purebred swine industry needed a shot of invigoration at this time. We needed to know who was going to take over the reins and help lead the breed organizations forward. We needed to get people excited about buying and raising purebred hogs.
The idea worked. The World Pork Expo created another opportunity for purebred swine breeders to sell pigs. The youth show created more excitement in the barns which eventually resulted in more opportunities for people to sell feed, boar semen, equipment, etc. But the part that some people may miss is how shows like this (but more importantly the junior organizations National Junior Swine Association and Team Purebred) open doors for young people.
For example, I am not sure we would have been able to keep bright minds like Emily Byers, Josh Flohr and Hyatt Frobose in the commercial swine industry without these organizations drawing them in, exposing them to career possibilities and finding ways to connect their passion for pigs with a fulfilling way to make a living. 
These are just three of many examples of young leaders I watched rise up who are now helping lead our industry today. But these three come to mind because coincidentally they were three of the first faces I ran into last fall at conferences in my new role as editor of Farm Journal's PORK. 
As I shared my story and thoughts on the future of the swine industry on this panel, I realized that's what truly means the most to me – seeing lives changed, dreams realized, opportunities seized. We need each other in this industry. We need to take advantage of pathways – whether it's a youth show or an internship program or an educational workshop at a 4-H meeting – to expose young people to the most noble and rewarding industry there is.
Better People, Better Employees
Unfortunately, the labor issue isn't going away. Frank Brummer, president of Farmweld, told me that it's the biggest concern on his mind right now. 
"It doesn't matter what line of business you are in, the future comes down to who can attract and retain the best help. Whoever can do that is the one who will be the future success story," he said.
As a baby boomer, Brummer's not going to be able to solve millennial work challenges with baby boomer solutions. He's asking questions and spending time talking to his employees to find out what they need and what is most important to them.
I consider it a privilege to watch my own children in the showring, placing a class in the judging contest, taking the skillathon, or giving a speech, and recognizing the confidence they are gaining, slowly but surely, through these experiences. 
But as exciting as it is to watch, nothing makes me prouder than seeing how their hard work and devotion to caring for their animal has helped them evolve into kinder, more compassionate young people. They have a greater understanding of life because of what they've learned by investing in something bigger than themselves.
We are up against a lot of enemies who don't understand what we do in agriculture. Youth shows provide a window for the world to see how much we care about our pigs in this industry. I applaud the National Pork Board for stepping up and supporting these young people and helping them recognize their impact on the future of the swine industry.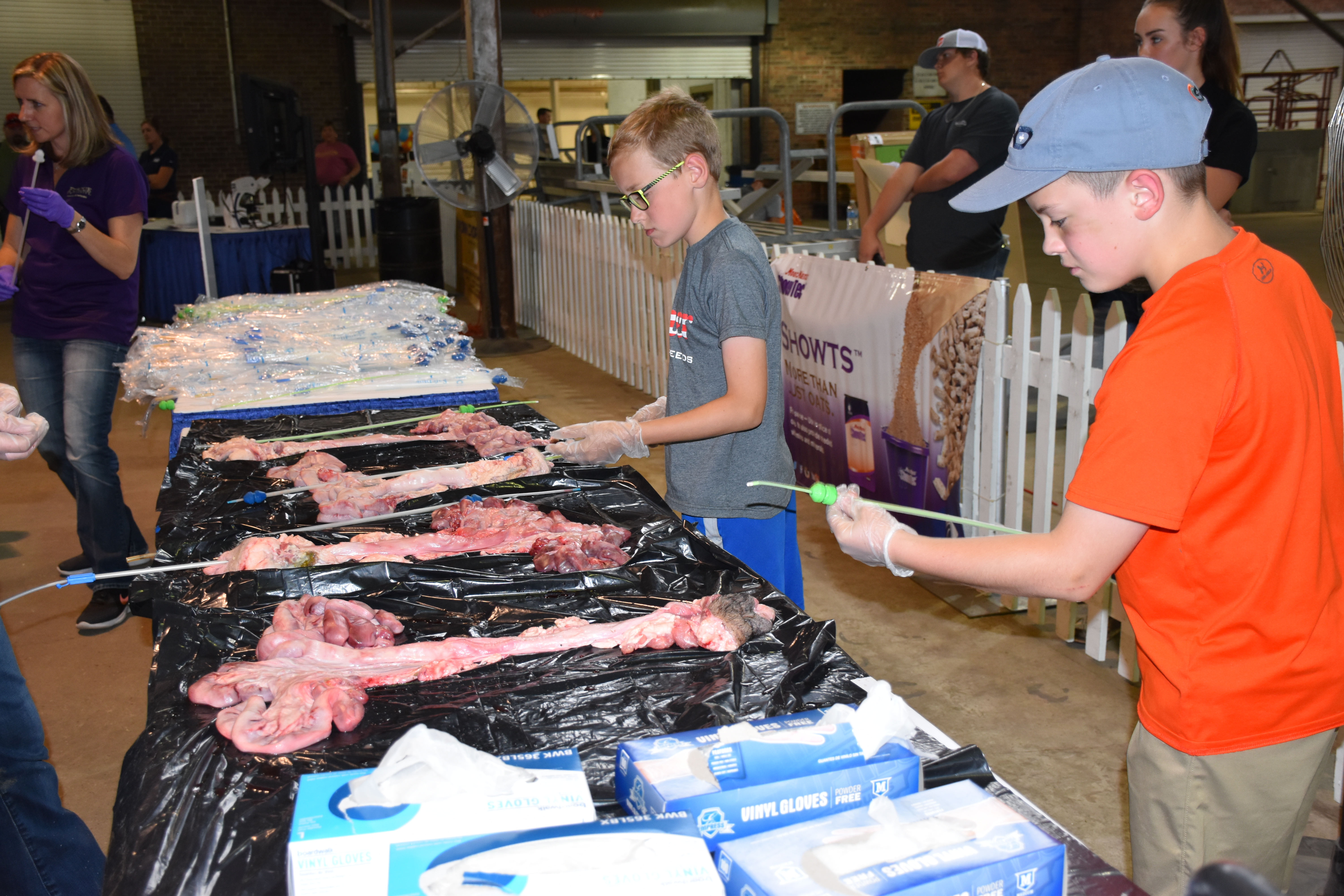 Biosecurity Basics
National Pork Board leaders made sure that week at The Exposition was full of educational learning experiences that were fun and challenged young people to expand their knowledge base. From arrival to departure, we received important messages about biosecurity and foreign animal disease pressure. 
My kids attended a reproduction and biosecurity clinic where they were learned and practiced AI techniques on a real female repro tract during sessions led by college professors from Iowa State University and Purdue University. 
They listened to Dr. Lisa Becton, director of swine health information and research at the National Pork Board, discuss how easy biosecurity can be.
"It doesn't have to be expensive and complicated," Becton said. She used Glo Germ to help young people see how easy disease can be spread by people and provided them with tips to minimize risk of disease spread when they return home from the show. 
"If we don't provide education to these young people and their families, shame on us," Becton said. "This is the future of our industry. We need to help educate them and provide resources to help them reach their goals. It takes all of us."
The Perspectives in Progress panel discussion hosted by the Pork Checkoff, NJSA and Team Purebred on June 6 hit home the biosecurity message again and encouraged young people to live each day like somebody's watching over your shoulder.
"Everybody in this room has a wide array of knowledge of understanding of what biosecurity means on their farm," said Mike Doran, COO of Swine Genetics International and a managing partner of a 40,000-pig-per-year commercial swine operation. "It takes us all working as a community to help educate one another in terms of what's appropriate and what's not appropriate as far as managing how you move your pigs around, managing how you move around in your vehicle, clothing or shoes, and managing the health protocol within your herd."
Carrie Webster, National Pork Board producer and state communications manager, said she hopes young people and their families took away a deeper understanding of why they follow biosecurity practices after attending The Exposition.  
"A lot of those individuals out there have followed these practices for years – cleaning their trailer, disinfecting their equipment. But they may not have realized that it has a bigger impact on the entire swine industry than keeping their pigs healthy when they go home," she said.
One of the biggest takeaways of the week for me was a simple reminder of how important unity always is – but particularly in challenging times. During the panel, Dr. Benny Mote, a swine Extension specialist for the University of Nebraska-Lincoln, made a very valuable point. 
"We are all on one team," he said. "A pig is a pig. The phenotype may be a little different, but a pig is a pig." 
 
Read more from PORK Editor Jennifer Shike: 

Emerging Technology, Emerging Leaders
Is U.S. Pork Safe to Eat?

5 Lessons FFA Taught Your Mother