( National Pork Board and the Pork Checkoff )
Hong Kong is expected to resume fresh pork slaughter production on Monday, but the city's total supply of pork is estimated to be around 60% of what has been offered previous, Bloomberg reports.
Approval was given for live pigs to be imported for the mainland to Hong Kong, said Chui Tak-yi, acting secretary for the Food and Health Bureau in China.
This follows the first confirmed case of African swine fever (ASF) in a government-owned slaughterhouse earlier in May. Sheung Shui Slaughterhouse was ordered to cull all 6,000 pigs at the slaughterhouse and suspend operations until disinfection was completed. 
Sheung Shui Slaughterhouse is owned by the Hong Kong government and supplies 80% of the city's pork. With little pork to purchase, vendors have been looking to use their market stalls for other product sales.
Two Mass Transit Railway train stops away from the Sheung Shui Slaughterhouse on Tai Kwong Lane in Tai Po, stories surfaced of a Hong Kong butcher transforming his butcher's stall into an underwear shop to make ends meet. 
According to an article on Coconuts Hong Kong, one of the women manning a stall said the vendors have had to diversify their business models amid the widespread pork shortage.
"They have to make a living and they need to pay rent — it's just how it is," she noted.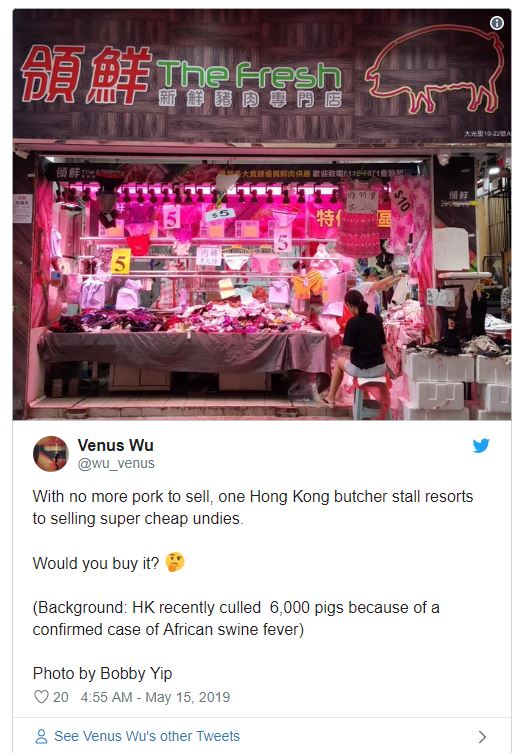 China confirms new ASF outbreak in Sichuan province
Meanwhile, China has confirmed another outbreak of ASF in the southwestern province of Sichuan. The outbreak in Zoigê county, Ngawa Tibetan and Qiang Autonomous Prefecture in Sichuan, killed 78 animals on a farm of 429 pigs, China's Ministry of Agriculture and Rural Affairs said  Monday.
China has reported more than 120 outbreaks of the incurable disease in all of its mainland provinces and regions, as well as Hainan island and Hong Kong, since it was first detected in the country in August 2018. ASF is a disease affecting pigs, but not humans. It does not affect food safety. 
Read more about ASF at porkbusiness.com/ASF.
Related Articles: 
Protest Follows Confirmation of ASF in Hong Kong Slaughterhouse