(l to r) Angela Baysinger of Merck Animal Health, sponsor of the Student Poster Competition awards; first-place winner Suzanne Leonard; second-place winner Maggie Henry; third-place winner Katherine Vande Pol; Sara Crawford, assistant vice president of animal welfare for the National Pork Board. ( National Pork Board and the Pork Checkoff )
Ten students were selected to present research posters in an educational poster session during the Pig Welfare Symposium in Minneapolis, Minn. In addition to a panel of judges, attendees were also encouraged to vote for their favorite poster. The students promoted their posters to the conference attendees during a short, 2-minute pitch. Attendees and judges then evaluated the posters on a variety of components from data quality to ability to present their ideas to poster design. 
The winning posters received scholarship awards as follows: $500 for first place, $350 for second place, $150 for third place and $200 for the people's choice winner.
Here's a quick review of the student posters.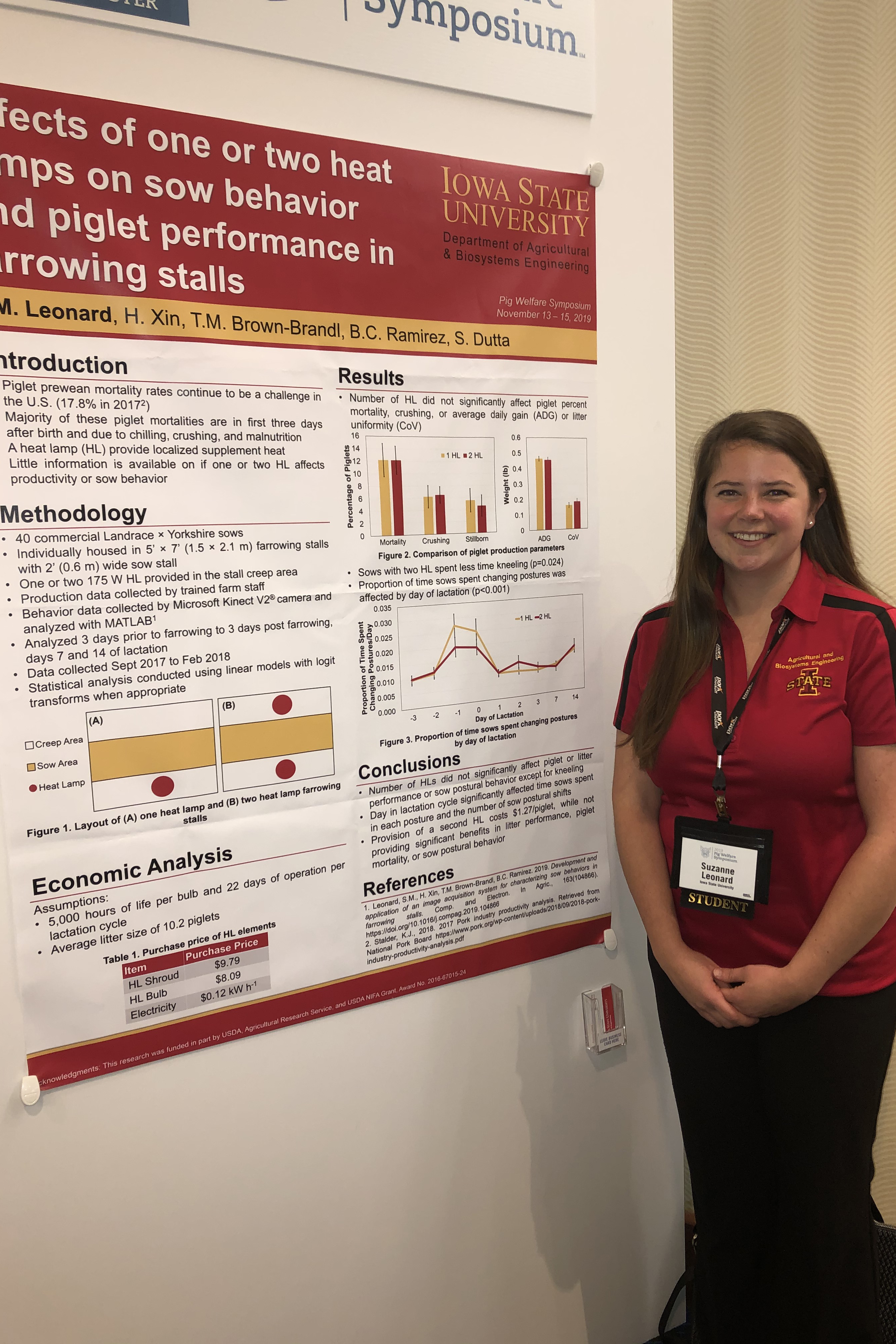 Suzanne Leonard, First Place and People's Choice Award
Iowa State University
High preweaning piglet mortality rates continue to be a challenge for commercial U.S. swine producers. Many producers use a single heat lamp to provide a warmer microenvironment for piglets to help reduce these mortalities. Suzanne Leonard's research study compared the effects of using one vs two heat lamps in conventional farrowing stalls. Her research found no difference in percent stillborn, mortalities or crushings. The treatments did not impact number of piglets weaned, average daily weight gain or litter uniformity. Sow behavior was monitored using a 3D camera system and no practical differences were found in sow postural behaviors. An economic analysis showed that the provision of a second heat lamp cost $1.27/piglet without providing any production advantages. 
Suzanne is a fourth-year Ph.D. candidate in agricultural engineering, and is originally from Dugspur, Va.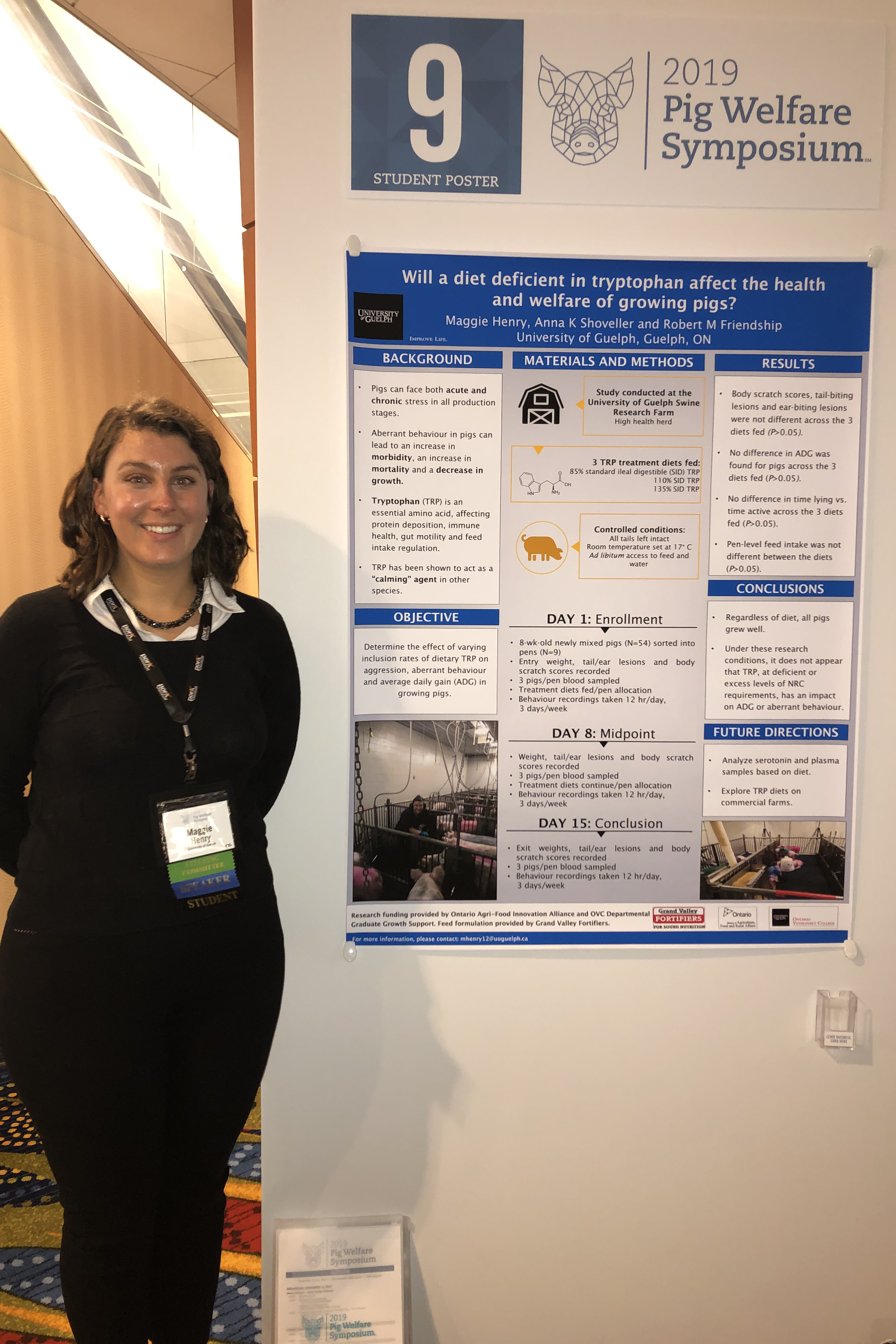 Maggie Henry, Second Place
University of Guelph
Maggie Henry's research looks at aggression and aberrant behavior in grower pigs. She fed three diets, each one containing a different level of the essential amino acid tryptophan, in order to assess the effects of how tryptophan influences aggression, tail-biting, ear-biting and growth. She took video recordings of the pigs to investigate their behavior, blood samples to investigate if different levels of tryptophan in the diet will lead to different quantities of plasma tryptophan and serotonin in the pig's body, and body weights to investigate how the level of tryptophan in the diet can affect average daily gain. Henry believes her research can benefit swine producers by exploring ways that nutrition can affect aggression and aberrant behavior in their swine herds.
Henry is a third-year Ph.D. student. She is originally from a small town in Eastern Ontario called Carleton Place.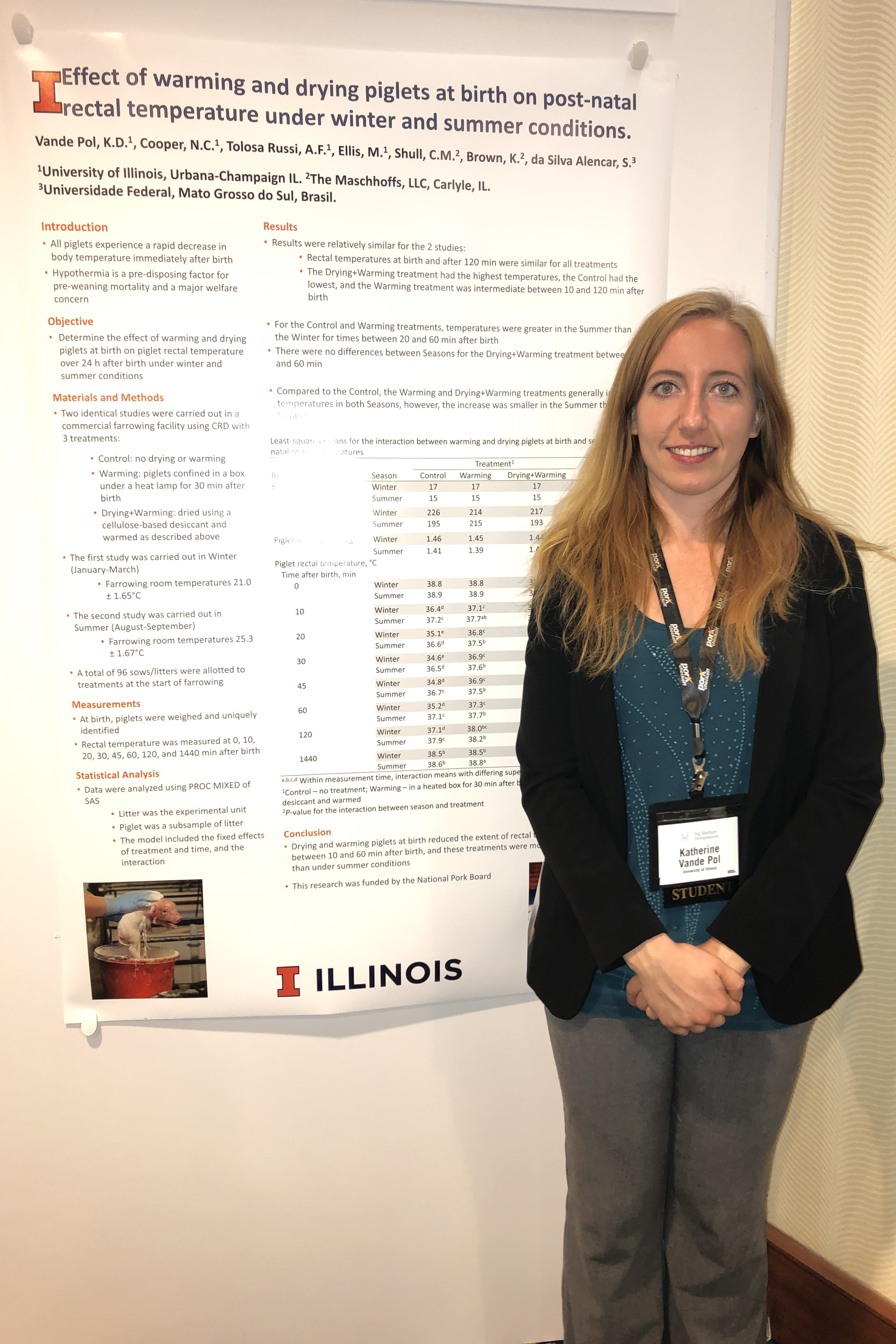 Katherine Vande Pol, Third Place
University of Illinois
All piglets experience a rapid decrease in body temperature immediately after birth, which is a pre-disposing factor for mortality and a major welfare concern. Katherine Vande Pol's research compared three treatments: Control (no drying or warming), Warming (in a heated box for 30 min) and Drying+Warming (dried with a desiccant and warmed as above) on piglet rectal temperature over 24 hours after birth in winter and summer. Temperatures for the control and warming treatments between 10 and 60 minutes were higher in the summer than the winter, resulting in smaller differences between the control and the other treatments. She discovered that drying and warming piglets at birth reduced the extent of rectal temperature decline between 10 and 60 minutes after birth, and these procedures were more effective under winter than under summer conditions.  
Vande Pol is finishing her third year in her Ph.D. program. She grew up in Los Gatos, Calif. 

Read about all of the student posters and see photos here.