( Pixabay )
Are you looking at the right food conversations? Registered dietitians Leah McGrath and Kim Kirchherr urged attendees at the Animal Agriculture Alliance's Stakeholders Summit to look at more than the conversation on social media when it comes to finding out what consumers really think.
"Social media promotes loud, fearmongering voices," said Leah McGrath, founder of BuildUP Dietitians.
It's important to acknowledge that there are many conversations taking place about food, she said.
Look at shopper data
Don't assume that what you see on social media is always the entire truth. For example, 0.5% of people in the United States are vegan and 2% to 3.3% of people are vegetarians, but 59% of vegetarians admitted to eating meat in the previous 24-hour period.  
Reframe the conversation using shopper data instead of conversation data, says Kim Kirchherr, supermarket consultant. Look at what's in the cart.
Although the food buzz may be about these popular phrases — allergens, organic, gluten-free, grass-fed, certified humane — the top product claims shoppers are looking for are low-sodium, low-sugar, no artificial ingredients, no preservatives and whole grain.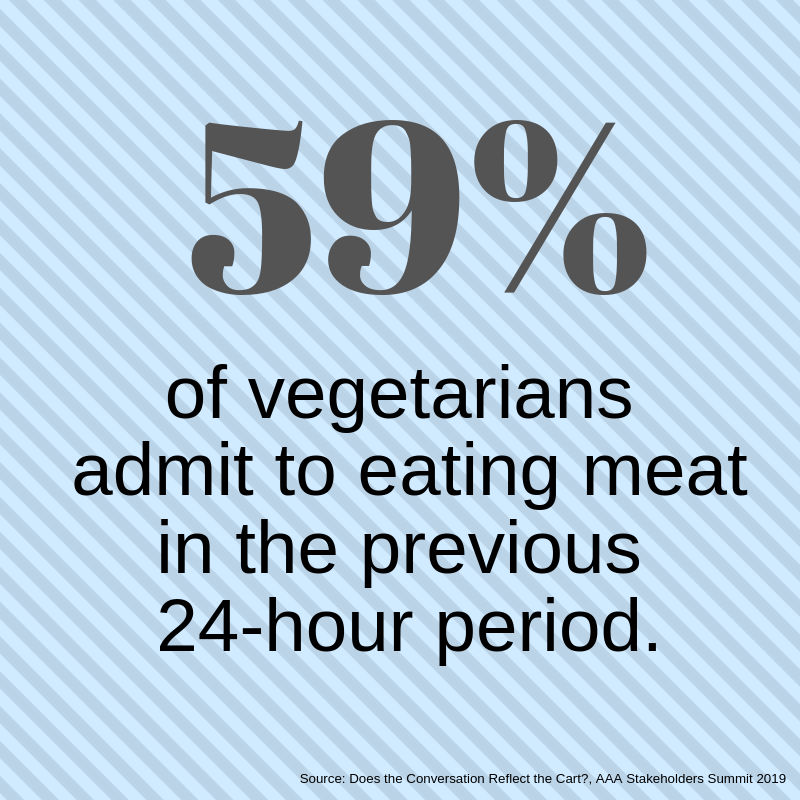 Who are you talking to?
The food industry needs to stop talking to consumers as a large, monolithic group and start talking to consumers as individuals.
"When you use the word consumer, when we're thinking about how we're going to interact in this very personal conversation that food is, we lose the sense of individuality in this word," Kirchherr said. "Word choice matters so much."
She recommends using the word customer instead of consumer.
"When you see the word customer, you see those individuals," Kirchherr said. "We're talking about people's choices that are impacting their own health, their family's health and everyone that they care about."
Developing relationships is a critical part of understanding how customers feel about food. About 98% of the population is not connected to a farm or ranch.
"Agriculture is not inherent knowledge anymore like it used to be," Kirchherr said. "So, how do we make sure we are resonating? Relationships make facts make sense."
Influence health and wellness 
Research shows people want to hear from farmers and agriculture experts. The top drivers of purchase continue to be taste and price, Kirchherr said.  
"If we can have a taste or price conversation with any of the topics that we know people need to hear about, can we enter the conversation in a way that can be heard and found a little bit easier?" she asked.
Start with something that they want to hear (price, taste convenience) and add in what you want them to hear (health and wellness, safety, social impact, experience), Kirchherr advised. Then, help them find what they need, understand what they find and use what they find to meet their needs.
"You're all basically ambassadors for agriculture," McGrath said. "And that's where you can really affect the conversation."

More from Farm Journal's PORK:
The Innovation Kitchen is Open at the National Pork Board