( Provided by Abbie Johnson )
If you aren't a pig farmer, it's hard to understand all of the factors that go into producing pork for the consumer. That's one reason why Abbie Johnson, a 16-year-old from LaHarpe, Ill., created a video explaining the impact of COVID-19 on the food supply chain for her 4-H and FFA project.
From start to finish, pork producers must take many factors into account and some of those factors are out of their control. From the weather to COVID-19, 2020 has posed farmers many challenges when it comes to producing food for a growing world. The packing plant closures and slowdowns this spring resulted in unexpected challenges for the supply chain.
"The timing is vital and all parts of the supply chain (producers, transportation, and packers) have to work together like a team," Johnson says. "A disturbance in any of those areas can majorly affect the whole industry. I hope my video helps people understand that."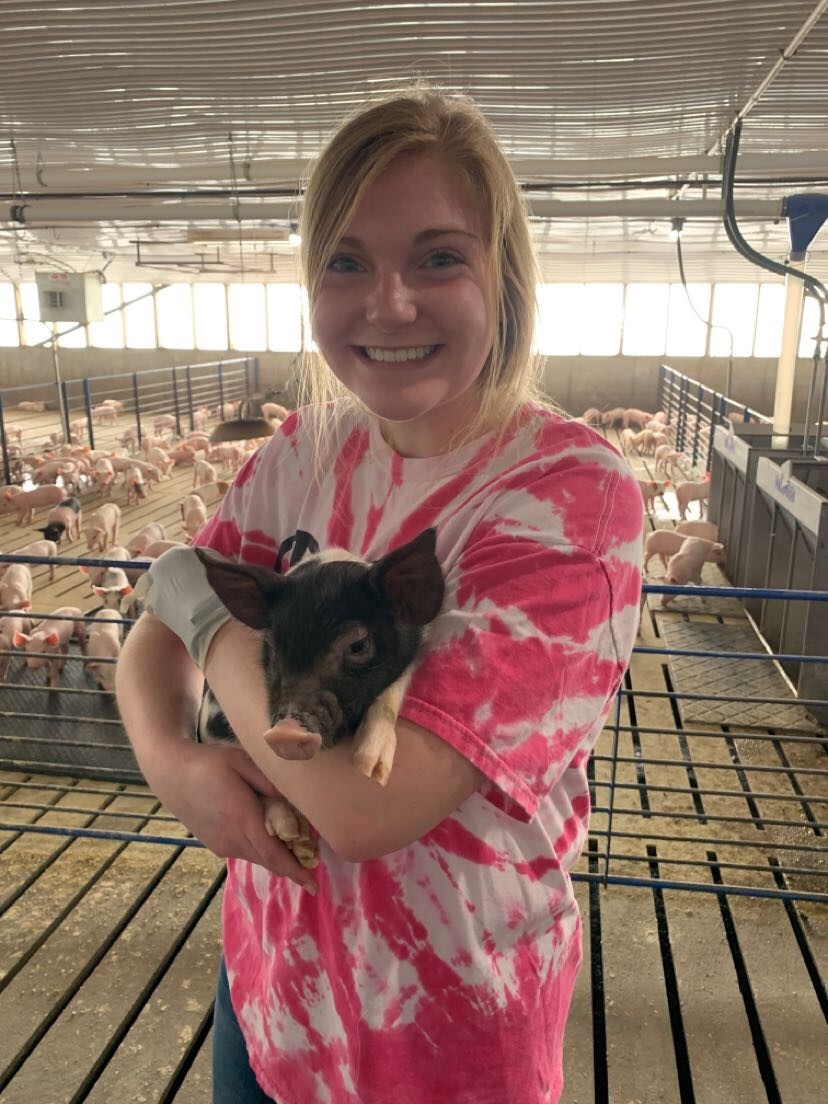 Abbie Johnson says her favorite part of pig farming is caring for the piglets.
Johnson is passionate about agriculture and sharing the story of food production with others. Her family raises finishing pigs and is affiliated with Carthage Veterinary Service. 
"My overall goal is to educate the general public about agriculture," she says. "This was also personal for me. We had pigs that were near ready to be shipped for processing when many packing plants closed. Luckily, we were able to slow them down by reducing feed rations. It took about seven additional weeks." 
She created this video as part of her veterinary science 4-H project that was exhibited during the Hancock County Virtual 4-H Fair. She also plans to use it as part of her ag literacy Supervised Agriculture Experience (SAE) project for FFA.
"I interviewed both my dad, Andy Johnson, and Dr. Joe Connor, a leader in the pork industry," Johnson says. "I also watched a few podcasts and did research on the closure of packing plants. I created the video using the iMovie app."
Illinois Pork Producers Association executive director Jennifer Tirey says it's exciting to see the next generation energized about the pork industry..
"As more consumers become further removed from agriculture, it is so important to identify advocates, like Abbie, to help us share our story," Tirey says. 
From live production to final product, the pork industry is backed by good science and animal welfare to deliver a safe and nutritious product to your table, Johnson explained in her video. Watch the full video here.    

More from Farm Journal's PORK:
A Conflicted Mom's Take on Showing Livestock During COVID
Glitter Snot and Virus Swapping: Hands-on Biosecurity Practice