( The Maschhoffs )
COVID-19 related issues continue to weigh heavily on the pork industry's financial situation. Addressing key issues impacting the pork market starts with pigs backed up on the farm. 
Analysts predict that we have 2 to 2.5 million pigs backed up in inventory that producers are still trying to get through a marketing channel. The impact is obvious to the marketplace as there is little demand for additional live pigs. The industry is already struggling to harvest and process contracted pigs under existing commitments. 
Coming off the lows of early July, cash markets haven't gained much ground until recent weeks. Even with a small rally there, losses are mounting quickly for those on a cash market basis or finding a negotiated bid for extra pigs. Cash-based prices, based on the Western Corn Belt, have been below $40 per cwt. for the last 16 weeks. I expect those pigs have returned losses of $40 to $50 per head over that period. 
Clearing those pigs from inventory and getting current looks to be a very difficult challenge. Harvest numbers have returned to nearly 95% of capacity on a weekly basis, but that level will make it difficult to get current any time soon.
Many states are seeing another spike in COVID-19 cases, bringing into question many of the food service venues that we count on for additional sales of many products. Restaurants, school systems, sporting or other social events are going to struggle for a while, or so it appears.
Pork packers are buying cheaper pigs, but margins are not as good as one would think. Although the spread between cash and cutout is wider than typical for July-August, the volume of pork that can be boned and processed for case-ready is much lower due to worker shortages. Many, if not most plants, are running at 85% of needed workers to run efficiently.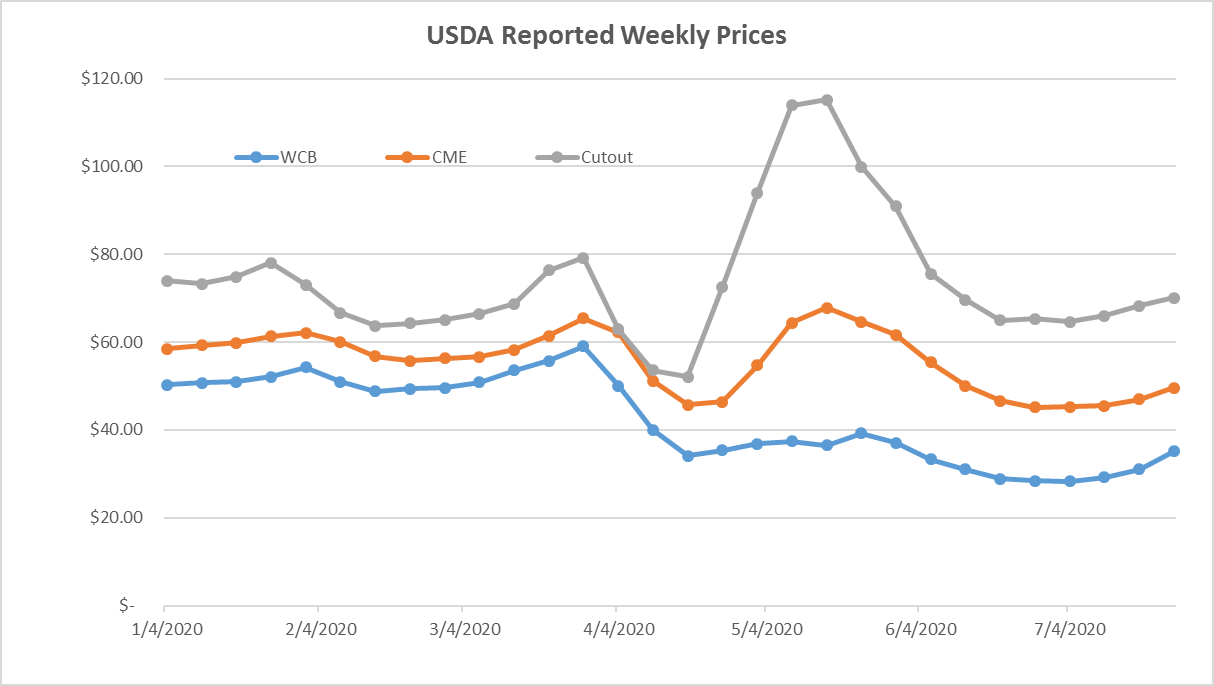 USDA Reported Weekly Prices from January to July 2020 
Source: Kent Bang
The backlog of live pigs created during the six weeks processors were impacted most in April and May will continue to drag on live hog prices. Harvesting through that number of hogs and getting current with supplies seems an impossible task, but if not done, will continue to pressure prices at least through year end.
More from Farm Journal's PORK:
What Does the Surge in Cash Hog Prices Mean for Producers?
6 Things to Think About When You're in Survival Mode
China's Hog Futures Set to Make Debut, But Faces Big Challenges
20 Ways Climate Impacts Agriculture
Virtual and safe to attend, Farm Journal Field Days is designed for everyone!    |    Register at FarmJournalFieldDays.com