With a large increase in corn acres, and declining ethanol demand, the U.S. could be swimming in supplies. That's why one analyst thinks there's downside price risk with putting corn in the ground this year. ( Farm Journal Media )
As the grain markets continue to grasp the impact of COVID-19 on demand, USDA threw the market a supply curve ball this week. USDA said based on more than 47,000 farmer surveys, the U.S. could see 97 million acres of corn planted this year. That number was above trade estimates and immediately sparked a debate on if 97 million acres of corn could become a reality in 2020.
Pete Meyer of S&P Global Platts says the market expected to see an increase in overall acres, largely due to the massive number of acres that went into prevent plant last year. However, not many expected that many acres to shift to corn.
"From the outside looking in, I think what happened was a lot of farmers said, 'you know what, I had all these acres that I didn't plant last year, they could make for great corn acres this year, and my yields could lower my cost of production'" Meyer says. " Around 47,350 surveys came back; this is the number. Do I think we get there? I don't think we'll get there, but I would caution against counting on too big of an acreage switch."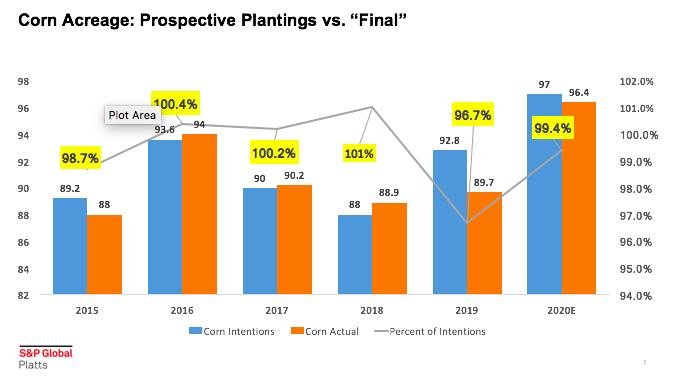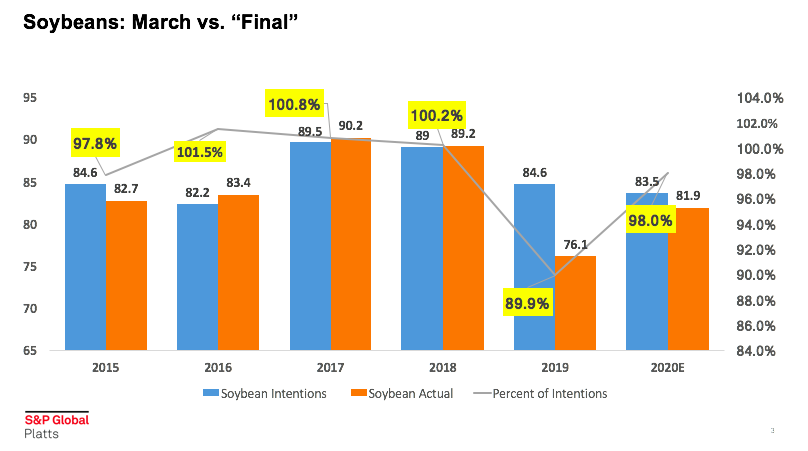 Meyer says based on acreage shifts the past few years, he doesn't think more than 2 million acres could come out of corn and switch to other crops like soybeans.
"If we go back to 2014, the biggest shift we have seen, it was a loss of 1.1 million acres in corn and a gain of 1.8 million acres in soybeans," Meyer adds. "I think that's probably the benchmark you have to look at.
Even with 95 million acres of corn, the U.S. could be swimming in new crop supplies, especially with declining ethanol demand.  That's why Meyer thinks there is downside price risk with putting corn in the ground this year.
"What we think the end result could be was that for a long time we had a range between $3.30 or $3.40, up to $4.25," Meyer says. "Our biggest fear is that we're going to set that range lower by about 25 cents, and thus making $4 the high of the pricing range. The low, can we spike down to $3? If we get to July with no problems? Sure. But there's a long way to go in this growing season."
Growing Oil Supplies
One of the demand risks that's been a hard hit to the market the past couple of weeks is the decline in ethanol. The price war between Saudi Arabia and Russia, combined with fewer vehicles on the road, means ethanol plants are shuttering production, causing less overall corn demand.
Just spoke to my friend MBS (Crown Prince) of Saudi Arabia, who spoke with President Putin of Russia, & I expect & hope that they will be cutting back approximately 10 Million Barrels, and maybe substantially more which, if it happens, will be GREAT for the oil & gas industry!

— Donald J. Trump (@realDonaldTrump) April 2, 2020
Even with the President tweeting out this week that Russia and Saudi Arabia have agreed to cut production, he doesn't think it will be enough to change the current dynamics of the market.
"He's claiming he's going to get at 10 million to 15 million barrels a day in production," Meyer says. "That's literally 50% of what the Russians and the Saudis produce on an on a daily basis."
Ethanol Crisis
Meyer says with declining demand and more oil, it's creating a perfect crisis storm for ethanol.
"There's no room left for any ethanol, and that's why these plants are closing down, never mind the negative margins," Meyer says. "There's very little room left for corn storage. So, this problem we don't think manifests itself until May. And May is when we think the containment issues really hit the forefront, by that I mean there's plenty of boats on the water. There's a lot of floating storage out there. These oil depots are not full yet. We're afraid that happens in May."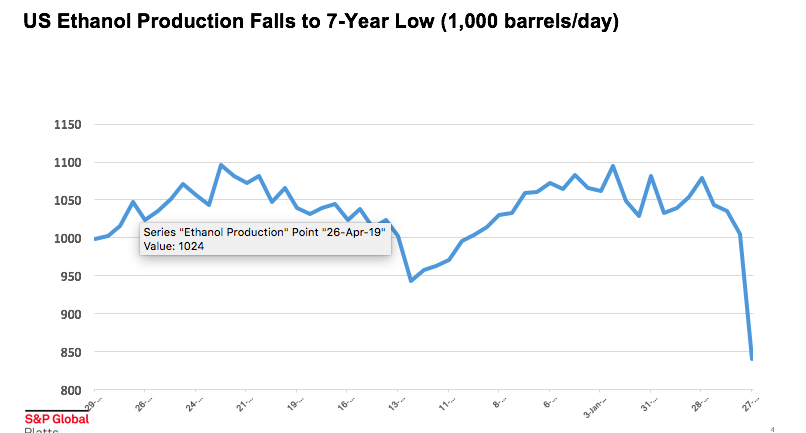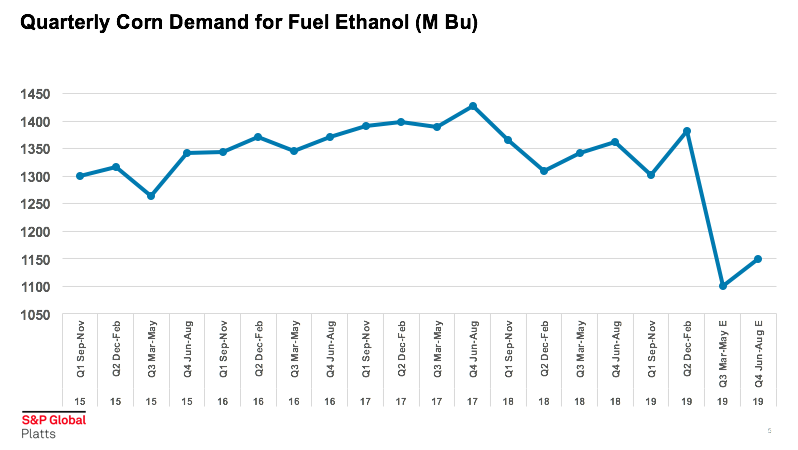 On Friday, USDA confirmed a sale of 567,000 metric tons of corn to delivery to China. Meyer says the bad news with the sale is only a small portion of that was for old crop, signaling China doesn't need the corn right now. S&P Global Platts thinks corn is losing 600 million bushels in ethanol demand. The sale to China translates to about 21 million bushels.
"We would need at least 20 more of those sales to make up for lost ethanol demand in the U.S." says Meyer.
Ethanol Demand Destruction
More than 40% of the domestic demand for corn comes from ethanol. Meyer says with fewer cars on the road, and less people at the pumps filling up with gasoline, that's creating another negative for the corn market right now.
"Last week EIA data showed gasoline demand was the lowest it has been since 1994," Meyer says. "That, in turn, has basically closed down 30% to 40% to maybe even 50%of ethanol production, because there's just no gasoline demand."
Meyer says as the unemployment rate grows, and more Americans are under stay-at-home orders, gasoline demand isn't going to return in the coming week. He thinks it could take months to get an improved demand scenario for gasoline and ethanol.
"There is absolutely no demand for gasoline. We hope it plays out towards the end of April, but if you listen to some of the experts on how this curve flattens or what happens, you're probably looking more towards Memorial Day," Meyer says. "Can we see what's called a 'V' recovery and that gasoline demand spikes Memorial Day because people are just tired of being cooped up? Yes. But in the meantime, you're going to sit through two months – or at least this month – of this reduced demand, which seems to be getting smaller and smaller every day."
Is There Hope for Higher Corn Prices?
Meyer says with the potential increase in corn acres this year, he's more friendly when it comes to soybeans or soybean meal prices. He says as Brazilian's government continues to downplay the potential impact COVID-19 could have on their country, the pandemic could cause some port closures that would be beneficial to soybean prices, and possibly eat into Brazil's corn exports.
"If anything is going to save us at this point is going to be exports," Meyer says.