( National Pork Board and the Pork Checkoff )
It's time to step up to the plate, says 2019 Pig Farmer of Tomorrow Ben Wikner. With an ever-expanding population that needs to eat, he believes the opportunities are endless to provide a safe and wholesome protein to a growing world population that needs protein.
"Anyone that wants to lace up their work boots and enter the swine industry will be faced with endless opportunities and growth," says Wikner, a 24-year-old pig farmer from Farmersburg, Iowa.
Growing up on a swine farm, Wikner says it was clear from a young age that he wanted to be a pig farmer.
"It's my passion," he says. "I enjoyed following my dad around at a young age and helping with chores wherever I could. My passion for the swine industry was planted at an early age and hasn't stopped growing since."
After receiving his bachelor's degree in agricultural studies at Iowa State University, he returned to his family's 2,200-head, breed-to-wean sow farm and corn and soybean operation in northeast Iowa. He wants to keep expanding their sow operation to keep pace with industry growth.
Wikner hopes to continue finding ways, like being one of the three 2019 Pig Farmers of Tomorrow, to serve the pork industry at the state and national level. With social media, he believes his generation has more opportunities than ever to share the story of pig farming.
"I want to work through social media outlets to share how our pork is raised," he says. "I believe that the further we move down the line of folks being removed from an agricultural setting, the more difficult it will be to tell our story."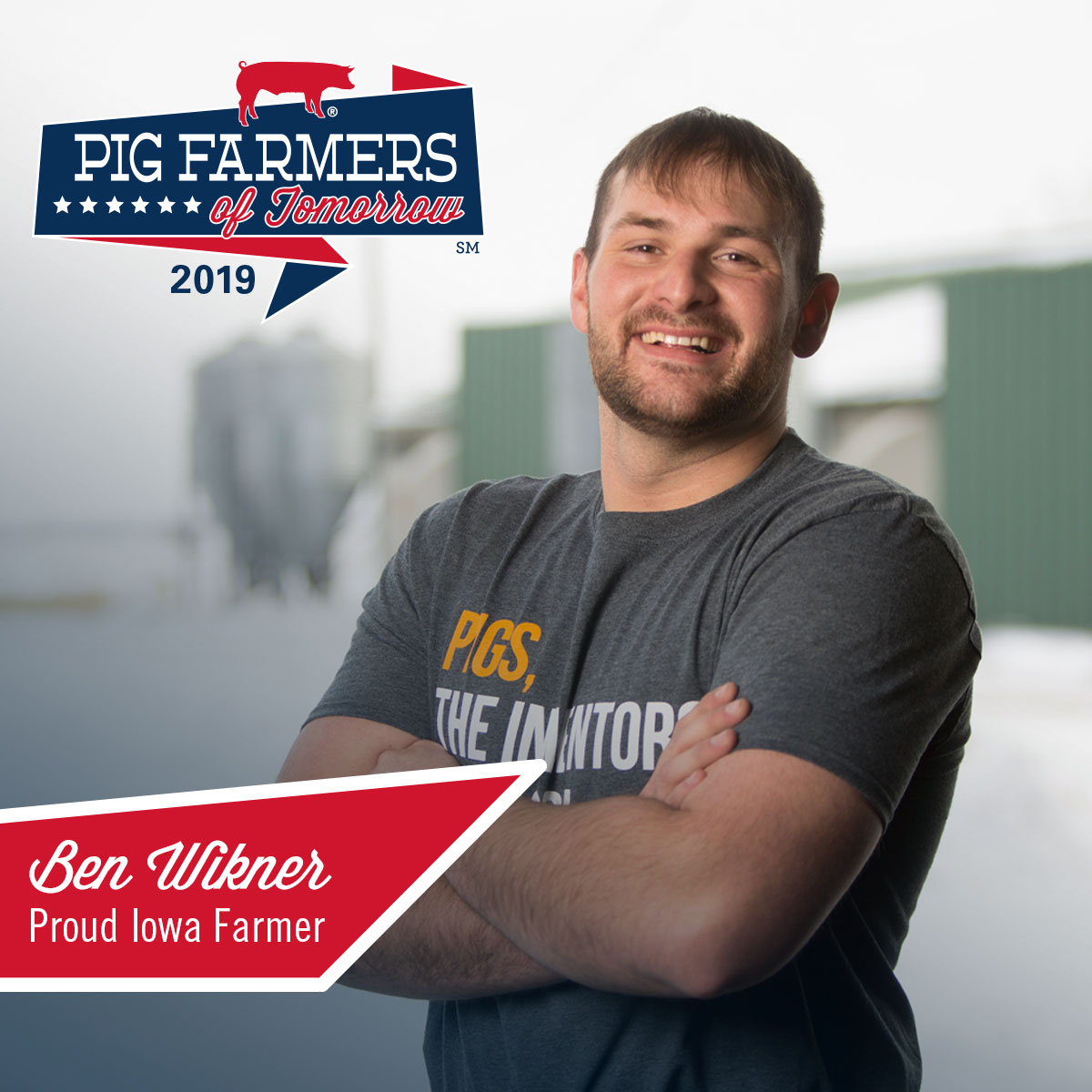 One way that Wikner plans to tell his pig farming story is through food.
"I want to connect with avid BBQ'rs because as much as I love raising pigs, I enjoy cooking pork even more," he says. "I am hoping to visit a few BBQ competitions to talk with chefs about how we raise our pigs as well."
His biggest piece of advice? Just remember that this isn't your grandmother's pork, he says.
"When prepared to 145 degrees Fahrenheit, pork is a delicious cut that I would put head to head with a ribeye any day of the week," Wikner says. 

Related Articles:
Managing Sows and Motherhood: Bailee Arnold Speaks Out
Next-Gen Pig Farmers Challenged to Share Their Story