Jackson Sterle, of Roland, Iowa, left, and Mason Marek, of Johnston, Iowa, right, share a quick moment after Mason received his yellow ribbon for showing a pig during the Bacon Buddies swine show at the Iowa State Fair. ( Special Olympics Iowa )
Continued from Page 1
An Invitation to Something Bigger
"Bacon Buddies allowed us to celebrate people and pigs," Mabry says. "The special needs community is always invited and always welcome to show at any pig shows or any livestock show for that matter. In today's world, it's hard to find common ground. This was an awesome opportunity for just that."
The show was a great reminder of what youth pig shows are really all about, Mabry says. Once the show started, the exhibitors paraded their pigs around the ring. No winners were chosen, just the opportunity to celebrate others. 
"I don't know how you could walk away from this event and not feel in your heart that it was all about the kids and I really enjoyed that," Mabry says. 
Bacon Buddies was not just an invitation to a show. It was an invitation to take a closer look at the opportunities in the swine industry, he says. 
"A lot of special needs people love science and work in labs," Mabry adds. "They are good at following tasks and being part of a team. They are employable people and I think events like Bacon Buddies open a window to the commercial industry where we can create a sense of purpose for them."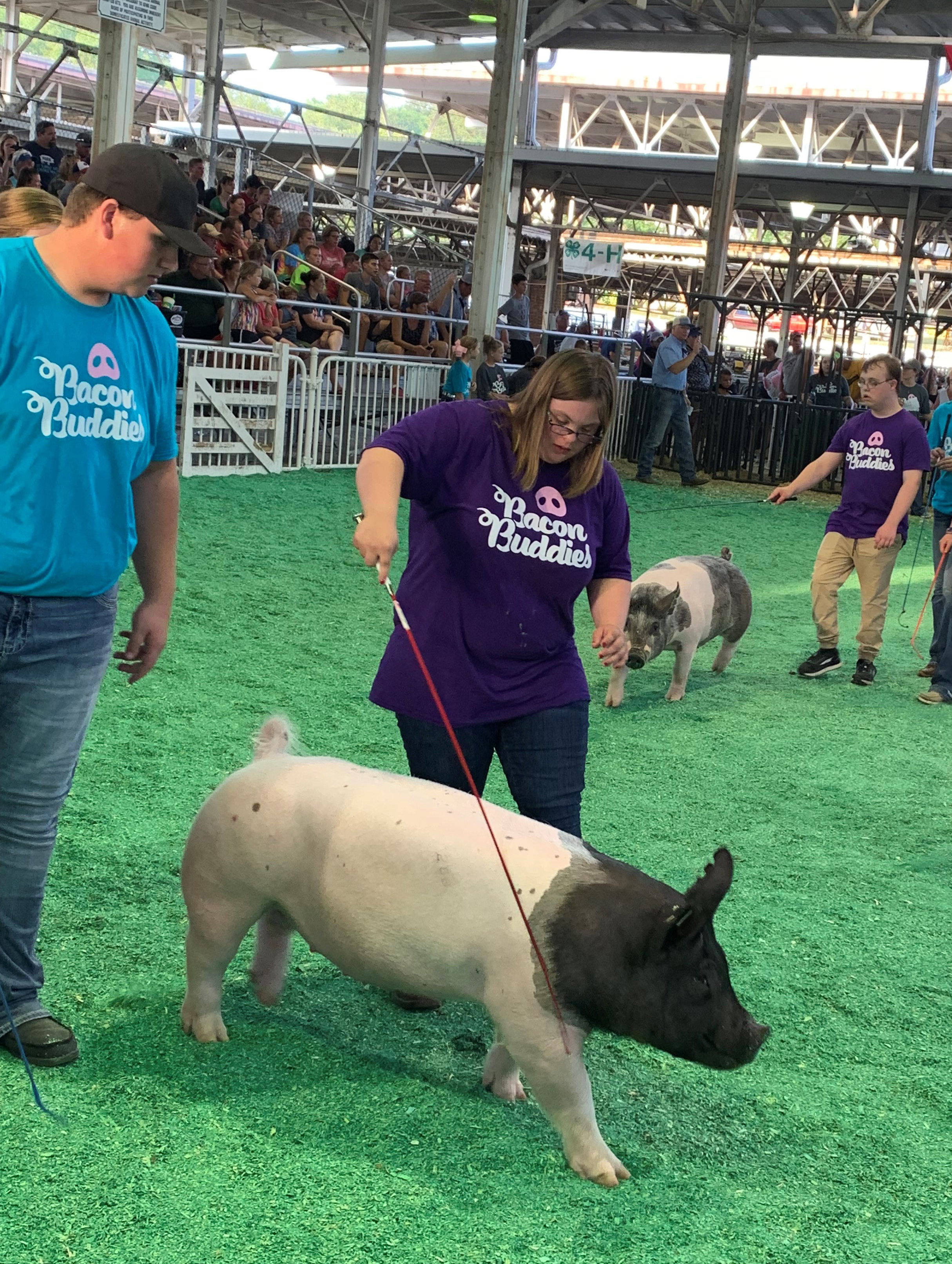 Abbie Kliegl of Prole, Iowa, center, shows a pig with her mentor Carter Koenck of Graettinger, Iowa, Left, during the Bacon Buddies swine show at the Iowa State Fair.  
A Dream Come True
Brown says the program's impact extends far beyond her expectations.
"The participants learned that pigs aren't as scary as they seem and in fact, most of the pigs at the state fair are very docile and tame," Brown says. "They realized that you can have a friend in your animal and with other people you show with. But most importantly, they discovered another way they could step outside of their comfort zone."
Of course, Brown walked away with a greater understanding herself of what it means to stay persistent and not give up your dreams. She also discovered that true joy isn't about what you get in life, but what you give.
"I enjoyed seeing the smiles on the exhibitors' faces during the show more than if I were to win the state fair," she says.

More from Farm Journal's PORK:
Biosecurity Featured at The Exposition Pig Show