Jackson Sterle, of Roland, Iowa, left, and Mason Marek, of Johnston, Iowa, right, share a quick moment after Mason received his yellow ribbon for showing a pig during the Bacon Buddies swine show at the Iowa State Fair. ( Special Olympics Iowa )
Incredible. Cute. Nice snouts. Smart. Adorable. Great ears. Just a few of the revelations participants in the inaugural Bacon Buddies program at the Iowa State Fair rattled off after getting to experience the swine industry up close and personal. 
On Aug. 10, 16 Iowans with special needs had the opportunity to work with a 4-H or FFA member and show a pig at one of the biggest state fairs in the country.
Although all exhibitors are invited and encouraged to show pigs, Kylee Brown, 16, noticed that the show ring could benefit from diversity, especially from the special needs community. A year later, with the help of many tireless supporters and after a visit to the Wisconsin State Fair to see a similar program in action, Bacon Buddies made its debut at the Iowa State Fair.
Brown sought out support from the Iowa Pork Producers Association and Special Olympics Iowa to help organize this event. Together, they planned an unforgettable day for Special Olympics athletes and 4-H and FFA members.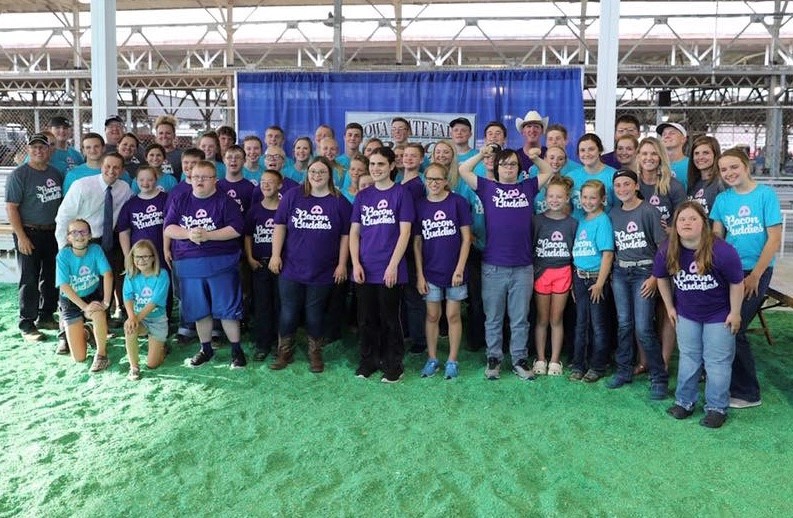 Bacon Buddies celebrated Iowans with special needs and 4-H and FFA members through a pig show at the Iowa State Fair. The Bacon Buddies planning committee, with support from Special Olympics Iowa and the Iowa Pork Producers Association, included adult members Ernie Barnes, Jodi Sterle, Chelsey Van Genderen, Cristen Clark, Jen Cannon, Mindy Williamson, Lexi Marek, Claire Masker, Trisha Brooks and John Kliegl.
Show Them We Care
"Overall acceptance is the ultimate goal," says John Kliegl, president of Special Olympics Iowa, and member of the Bacon Buddies committee. "It's not only the opportunity to get in here, but our athletes are going to be viewed as equals. They can work on their soft skills so when they go on a job interview or out in the community, people see them no differently than they see anyone else."
Kliegl says the goal was met. His aha moment? Watching the 4-H and FFA members treat the athletes like equals.
"This younger generation just accepts people for who they are," Kliegl says. 
And judge Brad Mabry of Winterset, Iowa, says that's just how 4-H and FFA members are. 
"These kids help everybody like that, that's a normal thing," Mabry says. "If you're new and showing pigs, the other kids will help you. That's just their normal."
Young pork producers welcomed the opportunity to live out We Care's community contributions principle – to build trust and good relationships in communities around the country.
"Our pig farmers are committed to doing the right thing through the We Care ethical principles, and the Bacon Buddies program is a perfect example of farmers' dedication to their local community," says Brett Kaysen, assistant vice president of sustainability for the Pork Checkoff, who helped during the show. "It was a great showcase for young people helping others." 
Most of the athletes were not from rural Iowa and had never seen a pig show before. 
"For someone who doesn't live on a farm or doesn't see this every day, it's really cool to see their reactions and see what it's like," FFA member Reagan Weinheimer said on Iowa Public Television.
A Packed House
Kliegl admits the week before the fair he was nervous. What if they didn't fill the stands to support the Special Olympics athletes? How would the other swine exhibitors react who weren't involved in the effort? 
"I was overwhelmed when we had more people at Bacon Buddies than at the grand drive," Kliegl says. "The place was packed, not an empty seat in the barn. People stood three to four deep on the rails." 
The stands were filled with people who did not know each other, Mabry adds. It provided an awesome exchange of positive feedback with people who had nothing to do with livestock and people who had nothing to do with special needs community – people were just so happy to be around each other that day.
Kaysen says many people were moved by what they saw. One producer said his wife just couldn't quit crying tears of joy and that it was the best thing she had seen in more than 50 years of visiting the fair.
"I can't tell you how many said they've never touched a pig before – that they've only seen wild pigs on TV. They had no idea that pigs had hair, that they could walk right next to you, that they were so smart," Kliegl says.
Not only did the show allow 4-H and FFA members to share how much they care about their pigs, but it also allowed them to show how much they care about others. 
"It's in our nature to care in the ag industry," Mabry says. "Bacon Buddies was a window for many of us in agriculture to see into the special needs community to realize how we can better serve others."
The benefit is two-fold, Kaysen adds. Participants were able to try something new and experience something that they might not have been comfortable doing on their own. Meanwhile the 4-H and FFA mentors learned more about respect, compassion and leadership by sharing an activity they love. 
"And it all centers around their excitement and pride in raising animals the right way," Kaysen says. "It's truly a win-win."
The committee hopes these types of events pick up steam at the county fair level to allow more Iowans with special needs to experience working with pigs and 4-H and FFA exhibitors. It's been eye-opening to the greater public who expressed that they had no idea what the people in the pig barn were doing before coming to Bacon Buddies. Now they have a better idea, Kliegl says.
Read on to see how the show brought people and pigs together and what Kylee Brown discovered along the way on page 2.