Bill Barr accepting the Distinguished Service Award. From left: AFIA President and CEO Joel G. Newman; Dr. Kim Rock, and her husband Bill Barr (middle), president of Bill Barr & Company; and Sarah Novak, AFIA's vice president of membership and public relations. ( AFIA )
Bill Barr Receives AFIA's Distinguished Service Award
  
The American Feed Industry Association honored Bill Barr, the president of Bill Barr & Company, with its 2019 Distinguished Service Award for his life-long contributions to the feed industry. Sarah Novak, AFIA's vice president of membership and public relations, presented the award to Barr at AFIA's Purchasing and Ingredient Suppliers Conference.

The Distinguished Service Award is AFIA's highest honor and is typically given to the elite members of the U.S. animal food industry who have provided outstanding support to AFIA and the entire animal food industry throughout their careers.
  
Barr has been a dedicated member of AFIA since 1977. He holds a commitment to quality and exceptional customer service within his own business practices, which he has emulated over his long career in the industry.
Barr's father formed the company in 1956 as a sales representative agency for manufacturers of ingredients used in the production of animal feed and companion animal food and treats. In the 1950s, progressive nutritionists searched for ingredients that could best balance the nutritional components of the commodity ingredients in use. As the industry grew and these feeds and foods became more sophisticated, the level of nutrition improved, and Bill Barr & Company expanded its service to customers to include the distribution of critical ingredients and their representation.
  
He earned a bachelor's degree in feed technology with an emphasis on animal nutrition and a minor in chemistry from Kansas State University and has completed business management and financial management courses with the Wharton School of Business.
  
AFIA Names T.J. Biggs as Member of the Year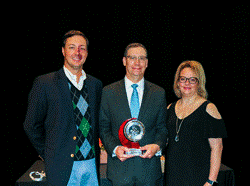 T.J. Biggs, director of technical services and quality assurance at Global Animal Products, was named Member of the Year.
The Member of the Year Award is presented to an AFIA member who exhibits outstanding support in achieving the organization's goals and objectives throughout the year. With the exception of the 83 members of the Food Safety Modernization Act working group who received the award in 2014, only 39 individuals have been honored prior to this year.
  
Biggs is the immediate past-chair of AFIA's Liquid Feed Committee. Together with the committee's leadership team, he helped assemble an outstanding slate of speakers for the 2018 Liquid Feed Symposium. He worked with the various subcommittees to make contact assignments, assuring sponsorships and contributions to the Kenny Berg Research and Education Fund were secured. In the past, he also played a pivotal role in ensuring the symposium's auction was successful.

More from Farm Journal's PORK:
Put Up Hurdles to Keep Swine Diseases Out
Ben Wikner: It All Comes Down to the Food on their Plate
Will African Swine Fever Push Consumers to Alternative Proteins?