It's almost time for one of my favorite holidays – a day to pause and give thanks for the many blessings in my life. In anticipation of Thanksgiving, my son asked if I was going to fix mustard ring. I'm fairly positive this creamy yellow concoction would not top Ms. Hollingsworth's 5th grade class list of favorite holiday foods. 
But in our house, ham served with mustard ring is more than a delicious main dish. It's about memories and stories, too.
I will never forget the first time I was introduced to Grandma Doc's Mustard Ring at a Shike family meal. I'll admit the gelatinous texture had me a little concerned. However, I wanted to be polite, so I tried this family tradition on my ham slice. My life has never been the same since.
My husband's mother, Jane, was gifted in the kitchen and in the art of conversation. I loved helping her cook and bake while hearing stories about my soon-to-be husband's childhood. Not only did she teach me the trick to making a great mustard ring, she helped me discover the joy of sharing traditions and passing them on.
Sadly, cancer robbed me of getting to know my mother-in-law Jane better as she passed away 10 months after we were married. When the holidays come around now, I am so grateful for the four years I did have to learn from her. Little did I know how the hours we spent working in the kitchen would allow me to become that tradition carrier for our children, her grandchildren. 
Food is a memory maker. It connects one generation to the next generation. It provides us an opportunity to share stories, to celebrate achievements, to heal from loss. 
Last week I attended the funeral of Bill Couch, the father of one of my closest friends. During the service, his dear friend Jimmy Williams said, "The Lord gives us the ability to remember. It's a gift."
Remembering is a gift. I am so thankful for the memories that accompany the holidays – watching my mom make her pecan pie, playing cards with my dad and uncles, dressing up in Grandma Ruthie's jewelry with my cousins, and making mustard ring with Jane. 
May this holiday be one where you can use your gift to remember the good things in life while enjoying some delicious family recipes. If you're going with ham this holiday season, here's a picture of my son displaying our beloved mustard ring and the recipe if you want to give it a try.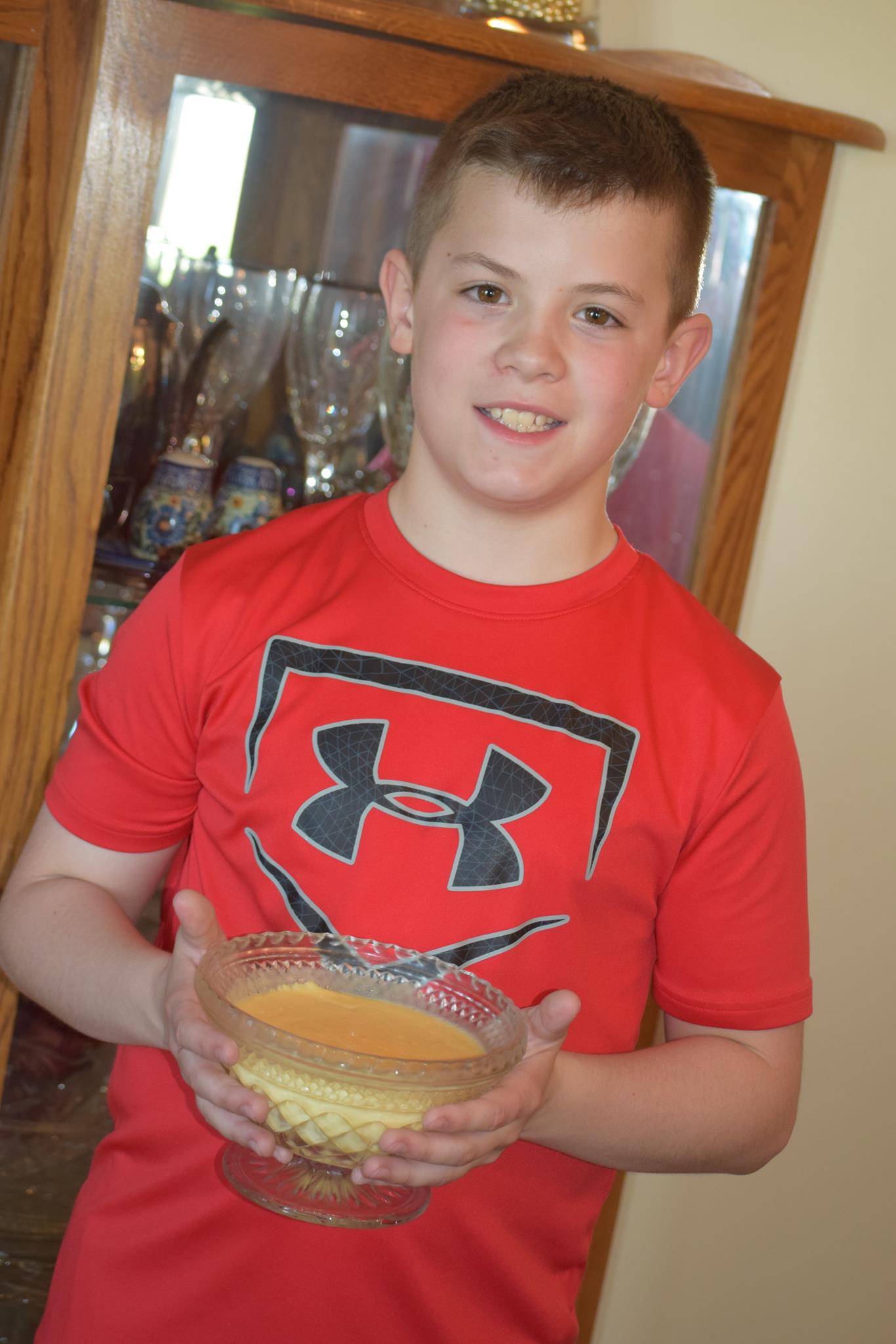 Grandma Doc's Mustard Ring
(pairs perfectly with ham)
4 well beaten eggs
¾ cup sugar
¼ tsp. salt
2 T. dry mustard
2/3 cup cider vinegar
1/3 cup water
1 envelope plain gelatin
2 T. cold water
½ cup whipping cream
Combine beaten eggs, sugar, salt, mustard, vinegar and 1/3 cup water in top of double boiler. Dissolve gelatin in the 2 T. cold water, add to egg mixture and cook over hot water until thick and creamy, stirring constantly. Cool. Whip cream and fold into cooled mixture and pour into well-oiled ring (or I just put it in a glass dish). Refrigerate until firm. 
More from Farm Journal's PORK:
4 Tips to Make This Your Safest Thanksgiving Yet