( Iowa Select Farms )
By Jen Sorenson
Andrea Graves had been a certified nursing assistant for 20 years, most recently in the Med-Surgery and Labor and Delivery department at Lucas County Health Center in Chariton. It was something she loved—tending to babies during their first, critical days of life. 
Every day she changed diapers, helped with feedings and kept her eagle eye on the newborns. Her warm smile and calm demeanor, coupled with years of experience, eased the nerves of more than a few apprehensive parents. She loved what she did, but wanted to advance in her career. With three little ones of her own, more schooling on top of a full-time job was not an option. Around that same time, her brother-in-law mentioned Iowa Select Farms had opened a new sow farm outside of Derby, Iowa.
"I don't know farming like others do," she thought to herself. "I'm not sure I'm cut out for it." 
She hesitated to apply, and then questioned her sanity after accepting the offer. Without a background in livestock, it was a huge leap of faith—so she thought.
      
Andrea's first week brought orientation, on-farm training and a Pork Quality Assurance certification. Her second week was even more daunting. What used to be caring for one mother and baby was now many sows with 12 or more piglets each. 
The manager at her training farm, Doug, was patient and helpful. He took his time to explain the role caretakers play to keep the pigs comfortable, strong and healthy. He covered colostrum intake, the importance of warmth and dryness, and when to help a gilt or sow farrow. 
Between the washing, drying and disinfecting of rooms to the water checks, heat lamp placements and recordkeeping, she started to realize there were more similarities than differences between her old job and new. 
Before she knew it, Andrea was promoted to a newborn pig specialist and had settled in on a team of 10 at a similar, nearby farm. She felt the same sense of confidence she had while she was nursing and her instincts kicked right in—follow the procedures, execute every detail, work as a team and trust your judgment.  
Now a year later, Andrea's hard work had paid off—she achieved her dream of advancing in a field she loves. Promoted again to farrowing department head, she oversees an assistant department head, a team of three newborn pig specialists and five caretakers.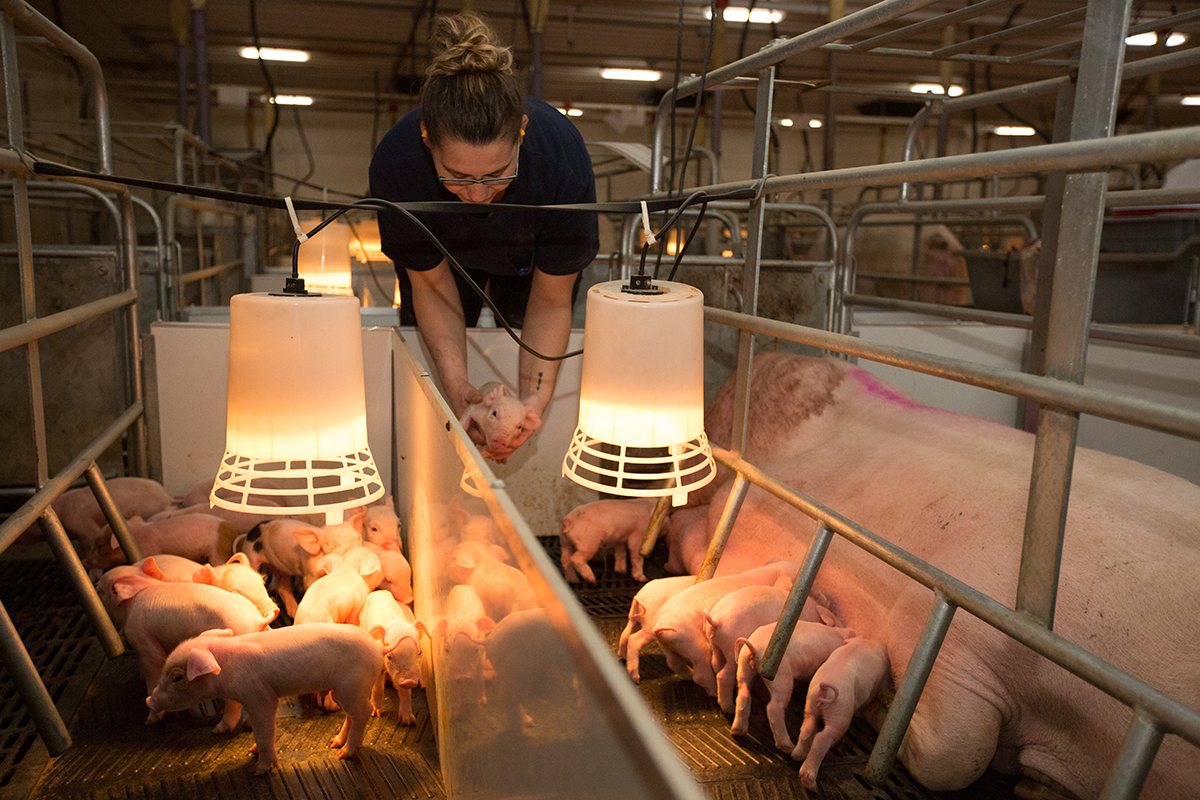 She shares six ways pig care is like nursing:
1— Your hours are routine, your day is crazy.
Just like at the hospital, Andrea and her team cover a lot of ground every day. They know exactly what to do by what time and in what order, working their way through the farrowing rooms and ticking off hundreds of daily tasks. 
As the leader of the department, she begins every day by jumping right into day one care work, because getting new babies warm, dry and suckling colostrum is the highest priority. Andrea's farm wean piglets three or four times a week, which means most days she moves from newborn pig care right into helping her team move 17-21 day old piglets out of farrowing rooms, down hallway and into the wean load-out area where they await their next home.
By the end of the day, she's completed 3-4 rounds through the farrowing rooms, spending her time training, moving animals, keeping the farm manager updated, imputing records on the computer and making sure all of the work is completed correctly. 
2— You consistently and carefully adhere to protocols.
Nursing is technical work and so is animal care. For nurses, tasks are done according to specific protocols with procedure, safety, and cleanliness front of mind. They require focused attention and accurate documentation.
Animal caretakers have the same responsibilities. "We have procedures—such as what degree to set heat lamps, when to administer iron shots to piglets or how often to change gloves—that are developed based on science and validated through research. We are responsible for following these steps precisely, each and every time," she said.
3— You see it all.
"I've had my fair share of 'Untold Stories of the ER' experiences," said Andrea, who sheepishly admitted pigs are sometimes a little easier to care for than humans. Nevertheless, neither career is void of all things squishy, messy and downright gross at times.
"I don't think I've gone a day in my life when I wasn't covered in afterbirth, urine or some other biological matter, like poop," laughed Andrea. "As a CNA, I saw it all. It's the realities of caregiving. You get over it really fast and recognize it's all part of the job. Things happen and then you clean it up."
4— If something looks and feels wrong, you get help.
As a CNA, Andrea never made medical diagnoses, but reviewed patient data and if something looked or felt out wrong, she let her care team know.
"An infant can't tell you if something is wrong, but you can pick up on subtle cues and catch something early," said Andrea. "As nurses we watch for changes in patient symptoms and have a front row seat. We have the advantage of catching small changes that can be indicators of bigger problems." 
Just like the NICU, animal caretakers are entrusted to go about their routines and get the work done. "We have our eyes on every animal, helping sows give birth, drying off pigs, and documenting everything along the way," she explained. "But if something doesn't feel right to us, we let our manager know. If something doesn't feel right to the manager, they bring in our veterinarian. We're not expected to always know what to do, but we're expected to speak up on behalf of those in our care—person or animal."
5— You never, ever stop learning.
In the human health field, Andrea had to understand technology trends and adopt new and more efficient ways to provide better care. For example, telemedicine is a trend that has significant advantages for patients who live in remote areas.
"At the NICU, we welcomed new and improved equipment and learned better ways to provide enhanced patient care and we do the same thing in the barn," she said. "Just the other day in the farrowing room we took a different look at the weaning age of the piglets and made some adjustments to keep them at our farm longer, and also found a better way to ensure gilts are getting good lactation pressure. We are always trying new things to improve animal care." 
6— You demonstrate compassion, always.
The biggest similarity between Andrea's human health and animal health careers is the importance of compassion. "When I worked in healthcare we had a code we lived by, and that was to treat every patient with dignity, compassion and respect," said Andrea. 
"We also have our own code as pig caretakers and that's to take care of the pig's basic needs to the very best of our abilities," Andrea noted. "We provide the right nutrition and fresh water, keep them comfortable, treat illness, and humanely euthanize the piglets we know are not going to make it. We are respectful to these animals and recognize the important role they play in feeding people."


More from Farm Journal's PORK: