It's show day! What do I want my kids to learn today? What do I hope they will gain from this experience? ( Jennifer Shike )
Fellow moms, our job is not for the faint of heart. It takes a thick skin, superwoman strength, and lots and lots of patience. Before I had kids, I thought I knew what being a mom would look like. 
You know what I'm talking about … a life like the pictures we all post to Facebook. Kids smiling and getting along. Purple-ribbon 4-H projects at the county fair. Babies who never have snotty noses. Everyone working hard together in the barn. Relaxed parents who always agree on how to handle decisions. A winning attitude after a race. 
But it doesn't always look like this. From one mom to another, its simply hard some days. Especially those days where your kids are in competitions. Kids fight. Races get rained out. Dads yell. Kids cross over in front of the judge. Wrestling headgear gets left at home. Moms yell. Trumpet valves stick. Big things, little things. They all add up to be a lot at times. 
Let's be honest, competition brings out some not-so-great emotions sometimes. So what would happen if we moms took a few minutes to prepare ourselves better for those days? Because if mom's not feeling it, no one's feeling it.
Get rested up. 
OK, OK. I know this is likely an impossible dream, but really, we need more sleep. We burn the candle at both ends to be able to get everything done for our loved ones. Oftentimes by the time the FFA judging contest or the football game arrives, we're a hot mess just going through the motions. Research proves that a good night's sleep makes you able to tackle the day's stresses more easily. When you are tired, you are less patient and more easily agitated, which can increase stress. We have enough of that already, so let's not add to it by starting out overly tired. 
Prepare your heart.
Before the busyness of the day sets in, find a few minutes to prepare your heart. Even if the only place that you can find a bit of quiet is in the bathroom, do it! Give yourself one minute to clear your mind, focusing in on what really matters. What do I want my kids to learn today? What do I hope they will gain from this experience? We all want our kids to win in life. We'd be lying if we say we don't. However, as parents, it's our job to help prepare them for the real world. And in the real world, you don't win all the time. There is no better training ground than some of these competitive events to help our kids learn these lessons. I have to check myself that I don't get so caught up that I lose sight of the larger purpose of why we invest so much time into these activities.       
Admit when you are wrong.
We will make mistakes. Be ready to admit when you are wrong. I've found that when I'm willing to lead my children with an apologetic heart, they reciprocate. When I point fingers and blame, they follow suit. Motherhood provides a lot of scenarios where you may be able to admit when you are wrong and help your children learn a very important lesson along the way. 
Be on the lookout for other moms in need.
Fight the urge to be self-absorbed. Ladies, we need to watch out for each other! Look for the mom who needs a smile because she's overwhelmed or the mom whose 2-year-old is having a meltdown. It's amazing what a bit of kindness can do in someone's life. I don't know about you, but when I'm looking out for others' needs, I spend less time worrying about my own problems.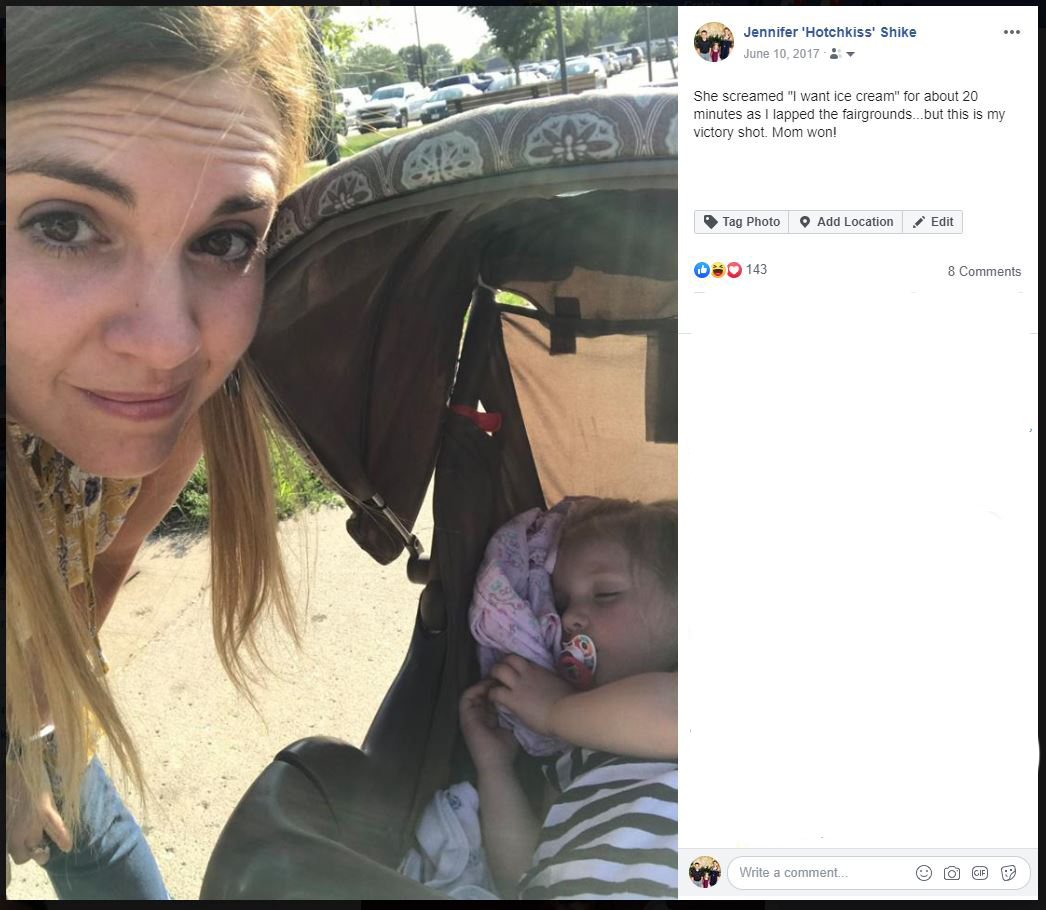 By the time she fell asleep on this 90+ degree day, I was ready for a nap myself. Sometimes our victories look like a sleeping child.
Extend grace. 
Some days it will seem like your kids and your hard work are simply being overlooked. Extend grace to others anyway. Sure, your kid has worked hard. But so has hers. When your friend's kid wins, congratulate her and share in her joy. When your day comes, you'll want someone to do the same for your family. And don't forget, it's OK to give yourself a little grace, too. You are going to lose your patience at some point. You will likely yell a little. You may even have to take a time-out. Just remember, you're not alone. 
So the next time you're getting ready for another one of your kids' events, remember to stop and prepare yourself, too. 
Related Articles:
The Night My Husband Tore Down the Barn to Save a Cat