For decades, Steve Spivey has worn two hats: farmer and football referee. ( Illinois Farm Bureau; Istock )
Christmas is a time for joy. Check out a few stories that bring smiles to our faces and joy in our hearts.
The best classrooms don't have four walls. Need a springboard to an agricultural education that goes where students learn best—outside the box, across fields, through multiple states and into foreign countries? Then take a long look at the Global Agriculture Learning Center (GALC), a maverick program aimed at shaping tomorrow's farming and agricultural leaders.
An arm of Hawkeye Community College, in Waterloo, Iowa, GALC began in 2013, and is gaining steam and reputation across farm country. Helmed by Brad Kinsinger, the center prepares students for further ag education or job entry, as well as providing a heavy dose of travel and exposure to the global farming industry. Read more here.
---
Women's place in agriculture continues to grow. Today 36% of producers are women — a 27% increase from the 2012 census per USDA.
These numbers will likely jump, according to Sarah Beth Aubrey, CEO of ACT. Of the 3,000 women surveyed, 75% of them are leaders at a local level; 98% said they have the skills, knowledge and experience to fill leadership roles in ag; and 91% want to see more women in industry leadership roles. Learn more.
---
Co-Op and Community Rally to Harvest Farmer's Crop
More than two dozen combines rallied to harvest the 900 acres of corn left standing after the unexpected death of Iowa farmer Kevin Barz. 
Farmers brought in 25 combines as well as many grain carts, tractors, and semis to bring in Barz's crop to the Bradford Landus Cooperative location. The effort was made possible by "countless volunteers." Check out the inspiring story here.
---
T-L Irrigation Pivot Displayed on White House South Lawn
As part of President Trump's "Made in America" showcase for 2019, the makers of T-L irrigation pivots were invited to bring an example to the South Lawn of the White House. 
The President made a proclamation that July 15, 2019, was Made in America Day and July 14 through July 20, 2019, was Made in America Week. 
"I call upon all Americans to pay special tribute to the builders, the ranchers, the crafters, the entrepreneurs, and all those who work with their hands every day to make America great," President Trump said. 
The showcase featured products from all 50 states. Read more here.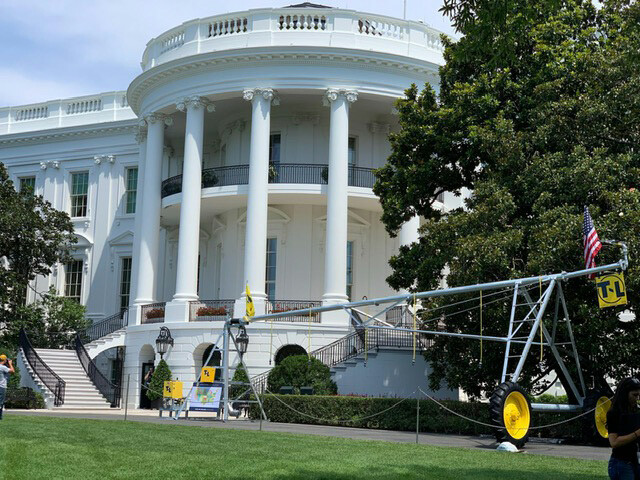 ---
Harvest Timeout for Friday Night Lights
Every fall Friday afternoon, Steve Spivey climbs down from a combine or tractor, trading diesel, dust and grain for a few hours of grass. He suits up with turf shoes, black slacks, white cap and zebra stripes and leaves behind one love for another—farming for football.
Across a near-40-year span, Steve Spivey has been a fixture of northwestern Illinois sports, refereeing high school football while juggling the full-time demands of a farm. For several hours each Friday night, a love of football provides a mental and physical break for a farmer intent on life balance.
"It's not a job, but more like pure fun," he says. "Harvest can be a grind at times, but football takes my attention away for a tiny while, and I go back to my fields refreshed and ready to go." Check out his story here.
---
When the Sheriff's Department Stops By: Farmer's Response Goes Viral
When Illinois corn and soybean farmer Doug Downs started fueling up his combine on Nov. 7 and saw a note on the combine door, his heart sunk. 
"As a farmer, stress levels are high this time of year. I've got 997 things to worry about, and the 18-hour days wear you down," Downs wrote in a post on Facebook that has been shared nearly 500 times in the past 10 days.
When Downs leaves the field, he always silently hopes that nobody messes with his equipment in the middle of the night out in the middle of nowhere. So when he saw the note on his combine, his mind immediately thought the worst. Read what happened here.
---
How One Farmer Uses Social Media to Connect with Consumers
With one glance at Christine Leonard's Instagram profile you'd see she is a cow loving, cattle dog training, cheese board crafting, dairy enthusiast. Today, Leonard, a herdsman at her family's 45-cow tie-stall operation in Waconia, Minn., can also add budding dairy industry advocate to her growing résumé.
Just a few short months ago, however, Leonard was just like you and I. Sharing a few cow photos and dairy facts here and there, but never really diving all-in to becoming a dairy advocate on social media. It wasn't until she participated in a Faces of Agriculture (@Facesof_ag) Instagram takeover when Leonard truly discovered her knack for engaging with consumers online. Learn more here.
---
Shoppers Respond to the World's Largest Avocado Display
When Rouses Markets put a post on Facebook that its Tchoupitoulas Street had avocados for 3/25 cents, the word spread quickly among shoppers in the area.
Many people came to the store specifically to take advantage of the promotion. Rouses priced the fruit at 3/$1, and then shoppers received Avocados From Mexico coupons for 75 cents off. An enthusiastic, frequently dancing avocado mascot delivered the coupons to shoppers. Check out the display, and responses here.
---
I've watched these two girls and their friendship grow over the past few years. They live in different states, separated by more than 100 miles. However, their connection formed through showing pigs is one that just doesn't come along every day. They compete against each other, but the joy they have for each other's victories and successes is real. There's no faking those hugs and smiles.
If Makayla is in the ring, Olivia (my daughter) is watching nearby. If Olivia is showing, Makayla's cheering. That's one of the neat lessons that showing livestock provides – an opportunity to learn how to win well and how to "not win" well. Life's a lot more fun when you're sharing in each other's joys rather than picking apart people's success. Read more.
---
Farm Kids Show Respect During Super Bowl National Anthem
Showcasing the lessons kids learn while farming alongside their family, Rob Klinkner of Liberty Pole, Wis., shared a heartwarming post of his sons pausing to show respect towards their country.
In the midst of their evening chores, Reagan and Garrison Klinkner removed their hats and stood silent while the national anthem played over the radio in their family's tiestall barn. Once the final notes had been sung and the crowd began to roar, the two picked up where they left off and finished a hard night's work. Read the whole story here.
---
BONUS STORY
Plant Seeds of Evergreen Success
Tom and Kerry Dull, lovers of the Christmas season, saw a void in their middle-Indiana community when it came to Christmas trees. In 1985, the couple planted their first batch of trees, and today they host thousands of families on their farm every year.
"Our intention was to hopefully save enough money from selling the trees to put our kids through college, and it worked," Tom says. "Today we sell wreaths and tree stands and we've added a gift shop, B&B, catering business, corn maze, pumpkin patch, recreational facility and event business." Read more here.